NPR's From the Top with Host Christopher O'Riley: Athens, Georgia / 228
Sunday, February 27, 2011 at 3:00 PM | Hodgson Hall, University of Georgia Performing Arts Center | Presented by University of Georgia
Watch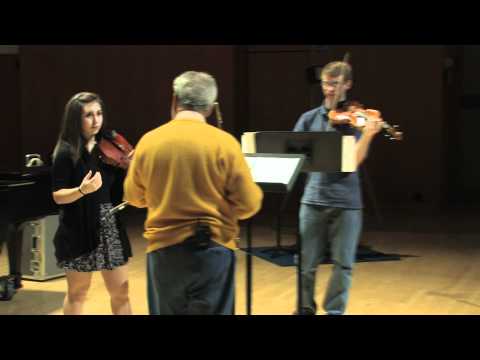 About
This week, From the Top is in Athens, Georgia, where the great flutist Sir James Galway collaborates with two outstanding teenage string players in the Beethoven Serenade, Op. 25. Also a 12-year-old pianist plays Brahms and an 18-year-old harpist plays Gabriel Piernés Impromptu Caprice.
Performers & Repertoire
From My Heart and Circus by Paul Coletti

Rhapsody in G Minor, Op.79, No.2 by Johannes Brahms

Flutist Sir James Galway and pianist Christopher O'Riley

I. Allegro Malincolico from Sonata for Flute and Piano by Francis Poulenc

Caprice by Gabriel Pierné

VI. Adagio-Allegro Vivace Disinvolto from Serenade in D major for Flute, Violin and Viola, Op.25 by Ludwig van Beethoven
Related Stories
22-year-old violinist Kenneth Renshaw appeared on From the Top with Host Christopher O'Riley most recently on Show 228, recorded in February 2011. …

Angelica Hairston knows how to make a harp sing. You may have first heard her work her magic when she performed on NPR's From the Top with Host …

Our alumni are making waves all over the world! Here's our latest round of alumni updates, keep them coming! You can submit your update to: …

18-year-old harpist and Jack Kent Cooke Young Artist Angelica Hairston wanted to share her music with visually impaired children from her community. She …

This spring has been a whirlwind for everyone at From the Top! In the past two months alone we've taped radio shows in Georgia, Iowa, California, New …

This week's broadcast was taped at the University of Georgia's Center for the Performing Arts in Athens, GA with special guest Sir James Galway …

We had an amazing taping this past weekend in Athens, Georgia featuring a very special guest – Sir James Galway, the man with the golden flute! He was …

This past weekend, From the Top traveled to beautiful Athens to tape a radio show at the University of Georgia's Performing Arts Center. Our four …
Release Dates
Monday, February 27, 2012
Release date is when this show is released to NPR stations, here on our website, and to our podcast. Shows are released on a weekly basis; please check your local NPR station listing for the actual airtime in your market. If you'd like, you can visit NPR's "Find Stations" page to look for your station.
Support Provided By
The Jack Kent Cooke Foundation