From the Top Virtual "Live" Auditions
Saturday, July 16 – Saturday, August 20, 2022
From the Top is holding Virtual "Live" Auditions!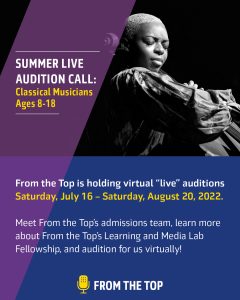 If you are interested in joining From the Top's Learning and Media Lab Fellowship, culminating in an appearance on our NPR program and podcast, please sign up to meet From the Top's admissions team and audition for us virtually! We can't wait to meet you!
How to sign-up for a Virtual "Live" Audition:
1. Select a date and time for your audition. Auditions available between Saturday, July 16 and Saturday, August 20, 2022.
2. Complete our online application before your audition date. If you have questions regarding which application to complete, please contact: auditions@fromthetop.org
**Please note that piano accompaniment is welcome, but not required for your audition.
---
QUESTIONS?

Email auditions@fromthetop.org for more information.