From the Top's Learning and Media Lab Fellowship provides young musicians a space to explore life as an artist, content creation, and the power of community engagement.
Fellows also have the unique opportunity to share their performances and perspectives with a large national radio and digital audience.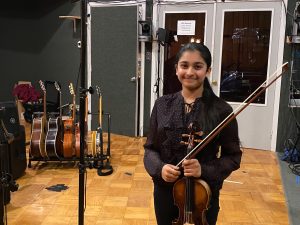 Joining a cohort of peers, Fellows complete a four-week online curriculum covering a range of topics. They explore career opportunities in the arts, audio production, community engagement, and more.
The Jack Kent Cooke Young Artist Award is a need-based award of up to $10,000 for eligible Fellows in the Learning and Media Lab.
At the end of the 4-week program, all Fellows:
Learn More About Becoming a Fellow

Are you a serious musician between the ages of 8–18? Learn more about becoming a Learning and Media Lab Fellow.

The Jack Kent Cooke Young Artist Award

How would $10,000 transform your musical studies? Learn more about From the Top's need-based Jack Kent Cooke Young Artist Award for Learning and Media Lab Fellows.

*Next deadline: November 15, 2023**

**Seniors in high school must apply by November 15th.