From the Top's Learning and Media Lab Fellowship provides young musicians a space to explore life as an artist, content creation, and the power of community engagement.
Fellows also have the unique opportunity to share their performances and perspectives with a large national radio and digital audience.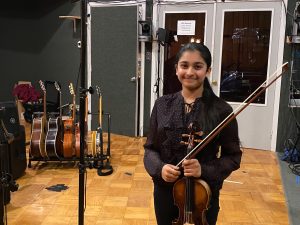 Joining a cohort of peers, Fellows complete a four-week online curriculum covering a range of topics. They explore career opportunities in the arts, audio production, community engagement, and more.
The Jack Kent Cooke Young Artist Award is a need-based award of up to $10,000 for eligible Fellows in the Learning and Media Lab.
At the end of the 4-week program, all Fellows:
Sign-Up for a Virtual "Live" Audition!

From the Top is holding Virtual "Live" Auditions August 1st – 25th, 2023.

Meet From the Top's Admissions Team from the comfort of your home, practice room, or summer camp! Learn more about From the Top's Learning and Media Lab Fellowship and audition for us virtually.

Learn More About Becoming a Fellow

Are you a serious musician between the ages of 8–18? Learn more about becoming a Learning and Media Lab Fellow.

*Now accepting applications for the 2023-2024 season. Please note, we are implementing application deadlines this season. Our next deadline is September 1, 2023.

If you are graduating in 2023, please contact us before applying.

The Jack Kent Cooke Young Artist Award

How would $10,000 transform your musical studies? Learn more about From the Top's need-based Jack Kent Cooke Young Artist Award for Learning and Media Lab Fellows.

*Next deadline: September 1, 2023