NPR's From the Top with Host Christopher O'Riley: Boston, MA / Show 358
Tuesday, June 5, 2018 at 10:00 AM | Media Arts Center at Roxbury Community College | Presented by From the Top
Watch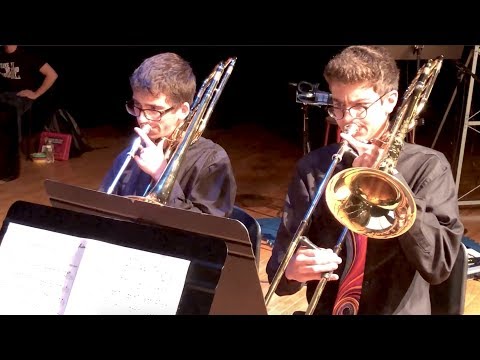 About
From the Media Arts Center at Roxbury Community College, this episode of From the Top brings together a cast of fantastic young performers with an all-student audience! We meet a remarkable 13-year-old pianist who shares how much happier she became when she stopped comparing herself to others, a teenage trombone quartet performs two pieces back-to-back that were composed centuries apart, and students from the audience ask the performers questions onstage.
Performers & Repertoire
Polonaise brillante No.2, Op.21 by Henryk Wieniawski (1835-1880), with Christopher O'Riley, piano

IV. Allegro from the Sonata for Cello and Piano in D minor, Op. 40 by Dmitri Shostakovich (1906-1975), with Christopher O'Riley, piano

"Canzona" by Biagio Marini (1594-1663) and"Intrada" by Walter Ross (b.1936)

I. Élégie from the Sonata for Oboe and Piano by Francis Poulenc (1899-1963), with Christopher O'Riley, piano

VI. Capriccio from Partita No. 2 in C minor, BWV 826 by Johann Sebastian Bach (1685-1750) and VI. Pastoral: Allegro moderato from Eight Concert Études, Op 40 by Nikolai Kapustin (b.1937)

Tambourin Chinois, Op.3 by Fritz Kreisler (1875-1962) with Christopher O'Riley, piano
Release Dates
Release date is when this show is released to NPR stations, here on our website, and to our podcast. Shows are released on a weekly basis; please check your local NPR station listing for the actual airtime in your market. If you'd like, you can visit NPR's "Find Stations" page to look for your station.