NPR's From the Top with Host Christopher O'Riley: Boston, Massachusetts / Show 356
Tuesday, May 15, 2018 at 6:30 PM | City Winery | Presented by From the Top
Watch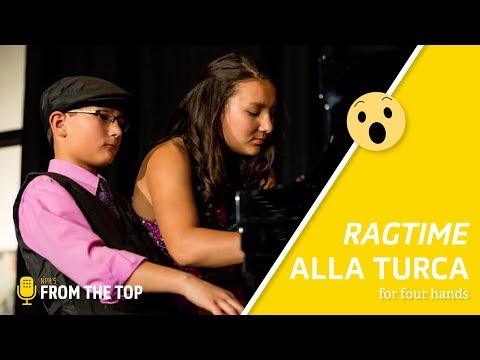 About
Recorded live on stage during From the Top's Annual Gala in Boston, this episode features incredible young musicians and a special appearance by NPR's All Things Considered Emeritus Host Robert Siegel. We hear a soprano sing a beautifully ethereal piece by Debussy, a teenage violinist shares how his love of hip-hop inspires him to communicate the power of music to his audiences, and a 10-year-old pianist from Missouri performs an exquisite piece by Chopin.
Performers & Repertoire
"Ragtime alla Turca" by Wolfgang Amadeus Mozart (1756-1791) and Greg Anderson (b. 1981), arranged for four hands on one piano by Emma Taggart

I. Allegro con fuoco from Violin Sonata, FP 119 by Francis Poulenc (1899-1963) with Christopher O'Riley, piano

IV. Paysages belges. Chevaux de bois and V. Aquarelles I. Green from "Ariettes oubliées" by Claude Debussy (1862-1918) with Christopher O'Riley, piano

Nocturne in F sharp Major Op. 15, No. 2 by Frédéric Chopin (1810-1849)

IV. Allegretto poco mosso from Violin Sonata by César Franck (1822-1890) with Christopher O'Riley, piano

Alice Ivy-Pemberton, violin, Nathan Meltzer, 17, violin, Mira Williams, viola, Jonah Ellsworth, cello with Host Christopher O'Riley

III. Scherzo from Piano Quintet No. 2 by Antonin Dvořák (1841-1904)

II. Presto agitato from 2 Klavierstücke by Felix Mendelssohn (1809-1847)
Release Dates
Monday, September 3, 2018

Monday, February 11, 2019
Release date is when this show is released to NPR stations, here on our website, and to our podcast. Shows are released on a weekly basis; please check your local NPR station listing for the actual airtime in your market. If you'd like, you can visit NPR's "Find Stations" page to look for your station.
Support Provided By
The Jack Kent Cooke Foundation
Presenter
Adage Capital Management, L.P.
Producer
The Baupost Group, L.L.C.
Elizabeth and Phill Gross
The Klarman Family Foundation
Susan and Gerald Slavet
Host
Tom and Lisa Blumenthal
Cynthia and Oliver Curme/The Lost & Foudation, Inc.
Linda and Michael Frieze

Barbara and Amos Hostetter
Nancy and Richard Lubin
John and Janet Pattillo
Announcer
Elaine and Robert LeBuhn
Bethany and Robert Millard
William and Lia Poorvu
Frances G. Pratt and Harold I. Pratt