NPR's From the Top with Host Christopher O'Riley Aspen, Colorado / 294
Sunday, August 3, 2014 at 8:00 PM | Harris Hall | Presented by Aspen Music Festival
Watch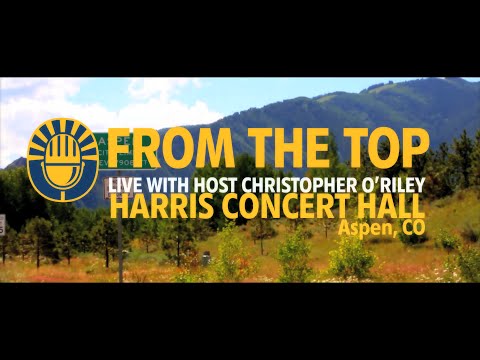 About
Show 294 was recorded at the Aspen Music Festival and School in Aspen, Colorado, where many of the world's top young musicians come to study during the summer. An outstanding teenage violinist from Shanghai triumphs in his performance of one of the most difficult and virtuosic pieces written for unaccompanied violin (see the video here), and we'll meet a young flutist with a moving story about being adopted as an 18-year-old into a new family.
Performers & Repertoire
Allegro con brio from Piano Trio No. 1 in B major, Op. 8 by Johannes Brahms

Serenade No.2 (Spanish Dance), Op.54, No. 2 by David Popper

Sonata in D minor, Op. 27, No. 3 "Ballade", by Eugene Ysaÿe

Allegro, from the Sonata for Flute and Piano, Op. 167 "Undine" by Carl Reinecke

Nocturne, Op. 48, No.1 in C minor by FréŽdéŽric Chopin

Finale, from Suite for Two Cellos and Piano by Gian Carlo Menotti
Related Stories
We would like to think that if Beethoven arrived in the 21st century, hearing magically restored, he would see the performers on From the Top as a sign of …

Well, there's no doubt that being in a place as gorgeous as Aspen gets the creative juices flowing. I mean, really, how can you not feel inspired …
Release Dates
Release date is when this show is released to NPR stations, here on our website, and to our podcast. Shows are released on a weekly basis; please check your local NPR station listing for the actual airtime in your market. If you'd like, you can visit NPR's "Find Stations" page to look for your station.
Support Provided By
The Sidney E. Frank Foundation
The Jack Kent Cooke Foundation