Alumni in Action: Virtual Summer
The "lazy days of summer" is not an expression that applies to From the Top's industrious alumni who are accomplishing a lot during these hot months. From benefit concerts to providing virtual access to music and arts education, our network is BUSY, and we have a lot to report in today's update.
As a reminder, we welcome news from all alums at info@fromthetop.org.
---
Josie Chan was part of a special From the Top residency in Los Angeles in 2019, where in addition to recording episodes of the radio show, musicians delved deeply into leadership and community engagement with FTT Co-Host/Creative Vijay Gupta. She writes: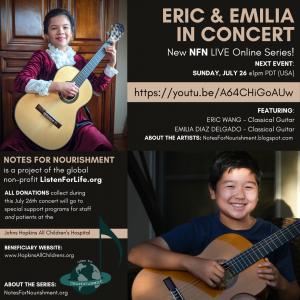 "I have recently been invited by Notes for Nourishment (NFN) to become their director, launching performances online and developing outreach programs to connect with seniors in nursing homes or living alone. The concept behind our NFN concert series is to provide a platform for musicians of all ages to donate their time and talents to perform in a free one-hour programs while donations are collected to benefit a cause chosen by the performer(s). This gives musicians a chance to share their gifts, using notes (music) to nourish the hungry, hurting and homeless in their chosen communities. The first concert was launched on 6/21 with Pierce Wang, Angeline Kiang, and me (all FTT alums!) performing to raise funds for the San Francisco-Marin Food Bank.
Our next concert is this coming Sunday, 7/26 at 1:00pm featuring FTT alums Eric Wang and Emilia Diaz Delgado. Their concert is designated to benefit the John Hopkins All Children's Hospital to help with the Covid-19 crisis. Watch here: https://youtu.be/A64CHiGoAUw
Participating in FTT's arts/leadership community engagement experiences definitely inspired me to get involved with Notes for Nourishment. The experience learning about Vijay Gupta and his journey creating Street Symphony was incredibly inspiring, and when I came back from the LA Residency, I began to organize benefit concerts and other outreach projects to libraries and schools. When the opportunity came to be a director for Notes for Nourishment, I jumped at it, wanting to use the online platform to make a difference with music."
Be sure to check our Josie's ongoing concert series at: http://www.notesfornourishment.org/
---
Yaegy Park was only 10 when she appeared on From the Top in 2008 and received the Jack Kent Cooke Young Artist Award, and we've enjoyed following her growth through the years. Recently, she was inspired to use music as a larger platform for addressing issues of social justice: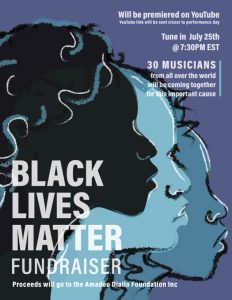 "Due to the recent tragedies of George Floyd and the divisions of our country, I was moved to action to encourage change through our art community.  I have reached out and brought together 30 musicians (from all over the world, because of the coronavirus) to create a virtual fundraiser concert that will premiere on YouTube on July 25th, 7:30pm E.T. With this concert, we hope to raise awareness for Black Lives Matter. More importantly, I have chosen a specific non-profit organization, the Amadou Diallo Foundation. All funds raised will directly go to this organization.
Fellow alumni performing in the concert include: Sydney Lee and Serena Hsu. Learn more about the concert at Yaegy's Facebook Page.
Watch the concert on YouTube here: https://youtu.be/GhPWar9xN_k
---
Young Concert Artists turned over their space to three FTT Alums Randall Goosby, Anthony Trionfo, and Steven Banks (who performed on our Virtual Gala) back in June for "Learning to Listen: A roundtable discussion addressing the nuances of the Black experience within the classical music community and beyond." You can still watch the conversation here.
---
Congrats to Josh Jones, who was recently named the First African-American Tenured Musician of the Calgary Philharmonic Orchestra, catch his Daily Joy video here:
---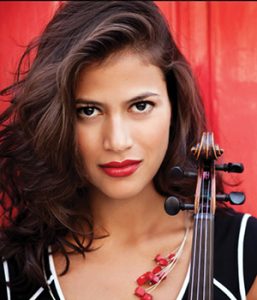 Alum and recent Guest Host Elena Urioste was in touch with happy news: "Chamber Music by the Sea, my annual chamber music festival on Maryland's Eastern Shore, is indeed moving ahead this August 18-22 in VIRTUAL form!"
Chamber Music by the Sea is committed to — and inspired by — bringing more people than ever together through music. The festival supports year-round arts activities in public schools on the Eastern Shore of Maryland. Elena, an incredible violinist, has "assembled a roster of internationally acclaimed artists who will join forces from around the world (offering glimpses into their individual musical worlds during this period of lockdown) to present diverse programs, featuring works by Dvorak, Grieg, Xavier Foley, and Berlin's own Lila Wildy Quillin, among others." She will be joined by a variety of artists including From the Top alumnus, double bassist Xavier Foley. Learn more about the virtual festival here.
---
Sophia Stoyanovich was in touch about her new podcast project with fellow From the Top alum, Derek Wang, entitled American Stories.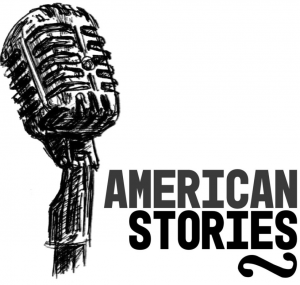 "American Stories features the American concert music in all its diversity as a mirror to the stories of people living in our country today. For our first episode, we featured the stories of two incredible women both of whom are mother currently working on the frontlines of the Covid-19 pandemic in New York, concluded by a performance of the powerful African American composer William Grant Still's Suite for Violin and Piano "Mother and Child".
Through the American Stories podcast series, we want to include and share all voice and musical identities that truly represent and inspire a full meaning of what it means to be American today: as citizen and artist.
More information can be found at www.american-stories.org where you can download a copy of our first episode "Mother and Child" via Apple Podcasts, Spotify etc."
---
Caeli Smith who appeared on FTT's radio and television programs, and served for some time as our "Roving Reporter" has also been in touch about a new online teaching initiative she has founded.
"MusicAlly was spurred into action by a need to connect kids with music and dedicated mentors during the pandemic, and addressing the notorious inequality gap in classical music.
 MusicAlly is a platform that brings online music lessons to kids using a buy-one-give-one format: for each family that pays market rate for a lesson with a world class musician, another student who wouldn't otherwise have access gets a lesson of equal length and value.
MusicAlly has PenPal and Mentor & Mentee programs, designed to connect kids worldwide to encourage and motivate each other in their practice and progress.
Students who already have private teachers can connect with a private coach for weekly support outside of their lessons. MusicAlly also works with adult students of any age and level of experience."
Learn more at: music-ally.org.
---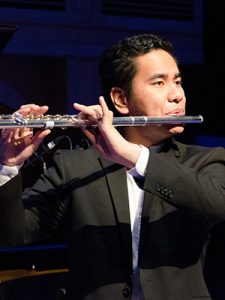 John Robert Santiago is also helping to provide access to arts education online:
"I am participating as a teaching artist in a project called The Art Hour. We are on a mission to alleviate art inequities in schools by providing free, virtual, one-hour art lessons to K-12 students across America.
9 out of 10 schools in California do not provide for visual and performing arts in the curriculum. Students of color, ESL students, and special education students have the least amount of access.
Inspired by these inequities, as well as the defunding of arts education in schools due to COVID-19, The Art Hour was born. Our team set out to find a way to utilize the resources and knowledge they had to uplift their communities and the students in them. With instructors who have been artistically trained at the Los Angeles County High School for the Arts, we provide a variety of classes in all five areas of study: music, dance, visual arts, theater, and cinematic arts.
Our website can be accessed at thearthour.org & you can follow us on Instagram at @the.arthour, on Twitter at @TheArtHour1, or on Facebook at @thearthour. "
---
Finally, we're looking forward to watching several alums participate in PianoSonoma's virtual festival – Check out Michael Dahlberg on July 23, Angie Zhang on July 29, and Host Peter Dugan and his wife Kara Dugan on July 30.