Ravel Quartet & Sibling Dynamics / Show 422
Monday, September 12, 2022 | Futura Productions |
17-year old cellist Xavier Ip from Watertown, Massachusetts and Guest Host/pianist Orli Shaham perform Papillon, Op. 77 by Gabriel Fauré.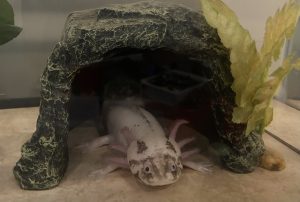 Meet the Lewis brothers exotic pet, an axolotl.
About
Guest Host Orli Shaham finds common ground with a pair of siblings who remind her of growing up with her brother, Gil. A lively quartet from Chicago plays Ravel. A teen soprano speaks about representation in classical music and connecting with a composer who shares her heritage. A talented young pianist talks about having pianist parents.
Pianist Orli Shaham's new recording of Mozart Sonatas came out to rave reviews from around the world: "Highly expressive," "engrossing," "Altogether exceptional," and "An absolute must for any of Mozart's fans."
Purchase your own copy of Orli Shaham: Complete Mozart Sonatas Volume 1, and Volumes 2 and 3 at this link or wherever you buy music. And keep an eye out for Volumes 4, 5 and 6 in 2023!

Performers & Repertoire
Papillon, Op. 77 by Gabriel Fauré (1845-1924) with collaborative pianist Orli Shaham

21 Hungarian Dances for Violin and Piano, No. 1 by Johannes Brahms (1833-1897), arr. by Joseph Joachim

Mutya ng Pasig by Nicanor Abelardo (1893-1934) with collaborative pianist Thaddeus Pinkston

Orli Shaham

Piano Sonata No. 11 in A major, K.331, III. ALLA TURCA: Allegretto by Wolfgang Amadeus Mozart (1756 – 1791)

In the Bottoms, Mvmt 4, Barcarolle - Morning by R. Nathaniel Dett (1882-1943)

String Quartet in F major, Mvmt 2 by Joseph Maurice Ravel (1875-1937)

Orli Shaham

Piano Sonata No. 5 in G major, K.283, III. Presto by Wolfgang Amadeus Mozart (1756 – 1791)
Release Date
Monday, November 28, 2022
Release date is when this show is released to NPR stations, here on our website, and to our podcast. Shows are released on a weekly basis; please check your local NPR station listing for the actual airtime in your market. If you'd like, you can visit NPR's "Find Stations" page to look for your station.