NPR's From the Top: New York, New York / Show 355
Sunday, April 29, 2018 at 3:00 PM | The Weill Music Room, Resnick Education Wing | Presented by The Weill Music Institute at Carnegie Hall
Watch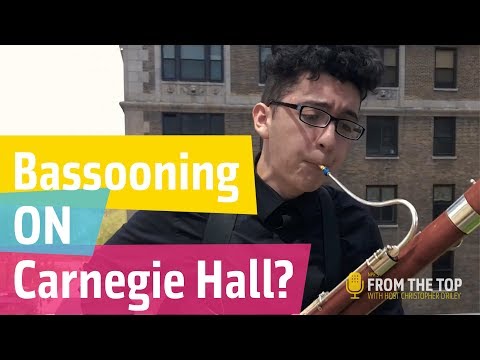 About
From Carnegie Hall's beautiful Weill Music Room in New York City, this show brings together a line up of fantastic young musicians from across the nation and beyond. We hear an 11-year-old violinist from New York stunningly perform Hubay's Carmen Fantasie Brillante, we meet a pianist from Los Angeles who views performing as a form of service, and a teenage bassoonist from Venezuela, now studying at the Interlochen Arts Academy in Michigan, dazzles the audience with his mature musicality and virtuosity.
Performers & Repertoire
Carmen - Fantasie Brillante by Jenő Hubay (1858-1937) with Christopher O'Riley, piano

IV. Allegro con Moto from the Sonata for Flute and Piano by Robert Muczynski (1929-2010) with Christopher O'Riley, piano

I. Grave. Doppio movimento from Piano Sonata No. 2, Op. 35 by Frédéric Chopin (1810-1849)

Andante e Rondo Ungarese, Op. 35 by Carl Maria von Weber (1786-1826) with Christopher O'Riley, piano

II. (b) Variazione Finale e Coda from Piano Trio in A minor, Op. 50 by Pyotr Ilyich Tchaikovsky (1840-1893)

I. Obsession from the Sonata for Solo Violin, Op. 27, No. 2 by Eugène Ysaÿe (1858-1931)
Release Dates
Release date is when this show is released to NPR stations, here on our website, and to our podcast. Shows are released on a weekly basis; please check your local NPR station listing for the actual airtime in your market. If you'd like, you can visit NPR's "Find Stations" page to look for your station.
Support Provided By
The Jack Kent Cooke Foundation