NPR's From the Top: Hanover, NH / Show 372
Saturday, May 25, 2019 at 8:00 PM | The Hopkins Center for the Arts at Dartmouth College | Presented by The Hopkins Center for the Arts at Dartmouth College
Watch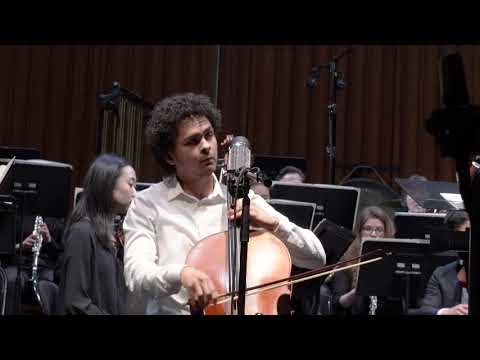 About
From the Hopkins Center for the Arts at Dartmouth College, this episode of From the Top features one of America's foremost pianists and winner of a MacArthur "Genius" Fellowship Jeremy Denk as guest host alongside special guests cellist Gabriel Cabezas and the full might of the Dartmouth Symphony Orchestra with Filippo Ciabatti at the helm. We'll enjoy a World Premiere performance of a tone poem for cello and orchestra and a conversation with a young violist that runs the gamut from Bob Marley to Nina Simone to Rebecca Clarke.

Guests
Guest Host: Jeremy Denk

Jeremy Denk is one of America's foremost pianists. Winner of a MacArthur "Genius" Fellowship, and the Avery Fisher Prize, Denk was recently elected to the American Academy of Arts and Sciences.
Performers & Repertoire
I. Allegretto from Concerto No. 1 for Cello and Orchestra by Dmitri Shostakovich (1906-1975)

I. Impetuoso from the Sonata for Viola and Piano by Rebecca Clarke (1886-1979) with Jeremy Denk, piano.

The Epic of American Civilization, a Tone Poem for Cello and Orchestra by Noah Luna (b.1984)

Nocturne in C sharp minor op. 19 no.4 by Pyotr Ilyich Tchaikovsky (1840-1893) and Prelude, from the Prelude & Fugue in D minor, BWV 875, Well-Tempered Clavier, Book II, No.6 by Johann Sebastian Bach (1685-1750)

III. Salmon Lake from "Three Lakes" Sonata for Flute and Piano by Daniel Dorff (b.1956), with Jeremy Denk, piano.

IV. Rondo alla Zingarese from Piano Quartet No.1, Op.25 by Johannes Brahms (1833-1897)
Release Dates
Monday, September 2, 2019
Release date is when this show is released to NPR stations, here on our website, and to our podcast. Shows are released on a weekly basis; please check your local NPR station listing for the actual airtime in your market. If you'd like, you can visit NPR's "Find Stations" page to look for your station.
Support Provided By
The Jack Kent Cooke Foundation
The Dartmouth Symphony Orchestra's performance of "The Epic of American Civilization" featuring cellist and From the Top alum Gabriel Cabezas, is part of From the Top's New Music Series, supported in part by the Amphion Foundation and the Aaron Copland Fund for Music.