NPR's From the Top with Host Christopher O'Riley: Washington, DC / 296
Friday, October 24, 2014 at 8:00 PM | Lisner Auditorium at George Washington University | Presented by Washington Performing Arts Society
Watch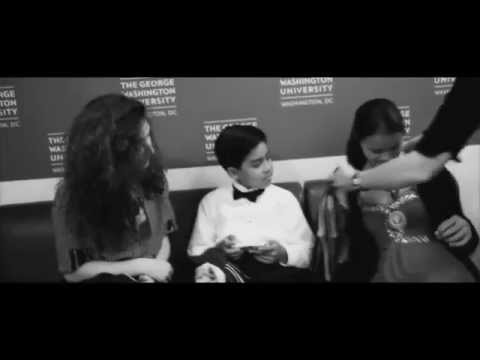 About
In celebration of a ten-year partnership and more than $2 million in scholarships awarded to young musicians, From the Top and the Jack Kent Cooke Foundation bring you a special recording from our nation's capital. Meet current and past recipients of the Jack Kent Cooke Young Artist Award, including a female percussionist who is breaking stereotypes with her all-female percussion group (see a video about them here), and enjoy a special performance by Washington Performing Arts' Children of the Gospel Choir.
Performers & Repertoire
"Carmen Fantasie" by Franz Waxman

Fantaisie for Flute and Piano by Philippe Gaubert

Prestissimo, from the Sonata No. 52 in G major, Hob. XVI:39 by Franz Joseph Haydn

Antonio Carlos Jobim arr. Gary Burton: ''No More Blues''

Prelude I and Chorus I from "Threads" by Paul Lansky

"Praise Ye The Lord", Scott Cumberbatch

Suggestion Diabolique by Sergei Prokofiev
Beyond the Concert Hall
The performers on this show visited River Bend Middle School, performing a special assembly together with a local guitar quartet and pianist, and conducting master classes for 8th grade music students. Special thanks to the staff at River Bend Middle School and Loudon County Public Schools for their support.
Related Stories
Backstage at George Washington University's Lisner Auditorium, 8-year-old pianist Oscar Paz-Suaznabar has his head bent over a cell phone, launching angry …

Over the last 10 years, From the Top and the Jack Kent Cooke Foundation have worked hard to ensure that financial need does not keep extraordinary young …
Release Dates
Monday, November 17, 2014

Monday, February 29, 2016
Release date is when this show is released to NPR stations, here on our website, and to our podcast. Shows are released on a weekly basis; please check your local NPR station listing for the actual airtime in your market. If you'd like, you can visit NPR's "Find Stations" page to look for your station.
Support Provided By
The Jack Kent Cooke Foundation