NPR's From the Top with Host Christopher O'Riley: Reno, Nevada / Show 345
Sunday, September 10, 2017 at 4:00 PM | Pioneer Center for the Performing Arts | Presented by KUNR and Reno Philharmonic Orchestra
Watch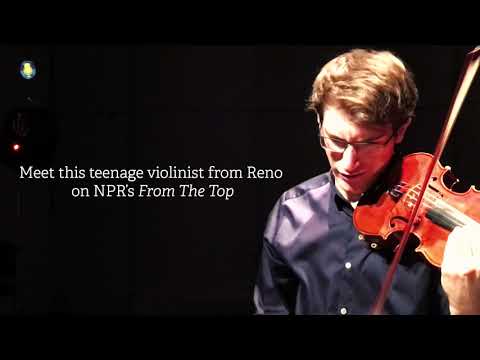 About
From the Pioneer Center for the Performing Arts in Reno, Nevada, this week's From the Top features a local 17-year-old violinist who's had an asteroid named after him, a young pianist thrills the audience with a piece by Ginastera, and the winners of the junior division of the Fischoff National Chamber Music Competition performs Bartok.
Performers & Repertoire
I. Allegro assai from the Sonata for Violin and Piano No. 8, Op. 30, No. 3 by Ludwig van Beethoven (1770-1827), with Christopher O'Riley, piano.

I. Allegro marcato from Piano Sonata No. 1, Op.22 by Alberto Ginastera (1916-1983).

"Scirocco" by Michael Burritt (b.1962)

Fantaisie for Flute and Piano by Philippe Gaubert (1879-1941), with Christopher O'Riley, piano.

V. Allegro molto from String Quartet No. 4, Sz.91 by Béla Bartók (1881-1945).

III. Perpetuum mobile. Allegro from Violin Sonata No.2 by Maurice Ravel (1875-1937), with Christopher O'Riley, piano.
Release Dates
Monday, November 27, 2017

Monday, December 24, 2018
Release date is when this show is released to NPR stations, here on our website, and to our podcast. Shows are released on a weekly basis; please check your local NPR station listing for the actual airtime in your market. If you'd like, you can visit NPR's "Find Stations" page to look for your station.
Support Provided By
The Jack Kent Cooke Foundation