NPR's From the Top with Host Christopher O'Riley: Monterey, California / 230
Thursday, April 7, 2011 at 5:30 PM | Golden State Theater | Presented by EG Conference
Watch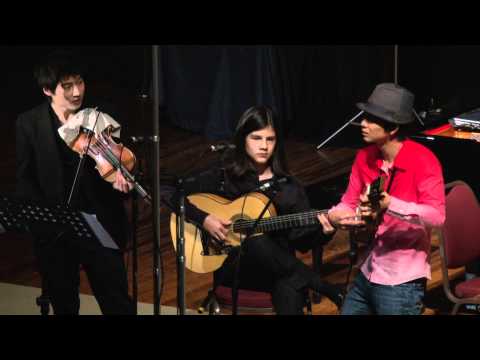 About
This week, From the Top comes to you from the E.G. Conference at the Golden State Theater in Monterey, California, where an incredible 9-year-old pianist plays Chopin, a 16-year-old double bassist plays a piece written for Picasso's 90th birthday, and ukulele virtuoso Jake Shimabukuro performs some of his own compositions accompanied by our young musicians.
Watch the entire episode on YouTube!
Ukulele player Jake Shimabukuro, violinist Charles Yang, guitarist Roberto Granados, and double bassist Emily Brown perform "Trapped" by Jake Shimabukuro, arr. Lee Blaske.
Performers & Repertoire
Grand Valse Brillant, Op.18 by Frédéric Chopin

The Chaconne in G minor by Tomaso Vitali

"Pianoforte" by Jake Shimabukuro

"War and Peace" by François Rabbath

"Pianoforte" by Jake Shimabukuro and "Trapped" by Jake Shimabukuro, arr. Lee Blaske
Related Stories
Boston, MA – Through its grantmaking to thousands of nonprofits each year, the National Endowment for the Arts (NEA) promotes opportunities for people in …

Our alumni are making waves all over the world! Here's our latest round of alumni updates, keep them coming! You can submit your update to: …

Never would I have imagined when I joined From the Top over a decade ago, that there would come a day when our crew would travel all the way to China to …

15-year-old cellist and Jack Kent Cooke Young Artist Matthew Liversedge has always believed that music can be enjoyed by anyone, and wanted to share that …

Attention working musicians and composers! The non-profit Future of Music Coalition (FMC), a national organization dedicated to "education, research, …

We are thrilled to announce that Driven: Six Incredible Musical Journeys by Nick Romeo is now available on Amazon!  Over the past few months we've …

On March 10th, 9-year-old pianist and Jack Kent Cooke Young Artist Ray Ushikubo was invited by his school district to perform for his hometown's Chamber of …

This just in from double bassist Emily Brown (Show 230 in Monterey, California): She snagged second prize in the Robert Avalon International Competition …

12-year-old guitarist Roberto Granados and 16-year-old pianist Rieko Tsuchida are both performing at the California Symphony season finale this Sunday, May …

The day after taping Show #228 in Athens, GA, our Education Team traveled with performer and harpist Angelica Hairston to the Clarke Central High School. …

– by Lauren Chipman "Look at her hair!" "I think she's in a rock band." "Whoa…." I don't look …

Last week, From the Top alums Nathan Chan, 16 (Radio show #207) and Simone Porter, 13, (radio show #165 and From the Top at Carnegie Hall's Episode …

From the Top's first recording collaboration with Telarc  and Erich Kunzel and the Cincinnati Pops, From the Top at the Pops, was officially released …
Release Dates
Release date is when this show is released to NPR stations, here on our website, and to our podcast. Shows are released on a weekly basis; please check your local NPR station listing for the actual airtime in your market. If you'd like, you can visit NPR's "Find Stations" page to look for your station.