NPR's From the Top with Host Christopher O'Riley Cincinnati, Ohio / 286
Wednesday, April 2, 2014 at 8:00 PM | Corbett Auditorium | Presented by University of Cincinnati College-Conservatory of Music
Watch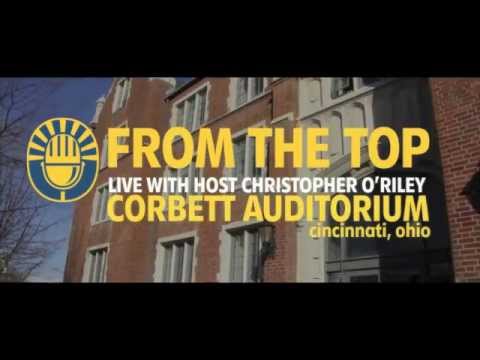 About
From Corbett Auditorium in Cincinnati, Ohio, this program features one of the strongest pre-collegiate music programs in the country: The Cincinnati Starling Project. Host Christopher O'Riley joins Starling's flagship orchestra to play Mozart, we'll hear a 12-year-old violinist and one of the program's most talented young soloists perform the music of Edward Elgar, and three From the Top alumni return to share their stories of mega success on YouTube and to perform a wonderfully schmaltzy comedic violin trio.
BONUS: Watch a video of the performers taking it beyond the concert hall, visiting schools in Rowan County, Kentucky.
Performers & Repertoire
The third movement, Rondeau, from Serenade for Orchestra No. 6 in D major, K. 239, "Serenata notturna," by Wolfgang Amadeus Mozart

"Feux d'artifice" (Fireworks) from Préludes, Book II, by Claude Debussy

"Salut d'amour" by Edward Elgar with the Starling Chamber Orchestra, conducted by Kurt Sassmannshaus

Serenade (Siciliano) for Three Violins and Piano by Joseph Hellmesberger Sr, with pianist Christopher O'Riley |

Performance video

The first movement, Adagio, from Adagio and Allegro, Op. 70, by Robert Schumann, with pianist Christopher O'Riley

The third movement, Rondeau-Allegretto, from Piano Concerto No. 12 in A major, K. 414, by Wolfgang Amadeus Mozart, conducted by Kurt Sassmannshaus.
Beyond the Concert Hall
With support from the William R. Kenan Jr. Charitable Trust, the performers traveled to Rowan County in Kentucky for three amazing days of arts outreach work. Check out the photos in our photo gallery, or watch the video.
Release Dates
Monday, November 10, 2014
Release date is when this show is released to NPR stations, here on our website, and to our podcast. Shows are released on a weekly basis; please check your local NPR station listing for the actual airtime in your market. If you'd like, you can visit NPR's "Find Stations" page to look for your station.
Support Provided By
William R. Kenan Jr. Charitable Trust
The Jack Kent Cooke Foundation