From the Top Commemorates Juneteenth with Special Episode featuring Pentatonix Star Kevin Olusola
NEW EPISODE CELEBRATES YOUNG BLACK MUSICIANS AND WORKS BY BLACK COMPOSERS
Three-time Grammy® Award-winning artist Kevin Olusola joins Host/Pianist Peter Dugan and young Black musicians from across the country for a special Juneteenth-themed episode of the From the Top. Black teenage classical musicians share stories and performances, reflect on Juneteenth, what it means to them, and the world around them. The music of Florence Price, Samuel Coleridge-Taylor, African American Spiritual, and a young Black composer are highlighted.
I was so proud when From the Top decided to take initiative and record a Juneteenth episode for a classical audience. This is a significant step; we have to normalize black faces in these spaces. My goal for this episode was to highlight how vast the black diaspora is, and that our collective black experience influences how we approach classical music and shape it for future generations. It's music that is, and can continue to be, for us — as well as for all peoples.

— Kevin Olusola, From the Top alumnus and beat boxer of the three-time Grammy® Award-winning and multi-Platinum-selling group a cappella quintet Pentatonix.
---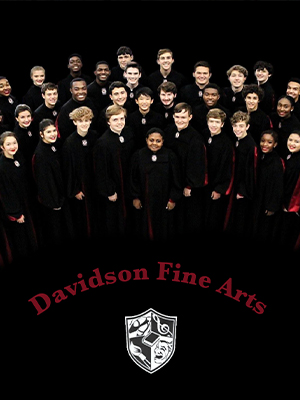 The Davidson Chorale from the Davidson Fine Arts Magnet School in Augusta, Georgia, with Director Phillip Streetman, kicks off the program with a moving performance of There is a Balm in Gilead (Traditional), with soloist Zanaiah Billups, 18. Zanaiah and fellow chorale member Sierra Hall, 19, speak with Peter Dugan and Kevin Olusola about the spiritual's meaning, their perspective as African American teens, and their hopes for the future.
---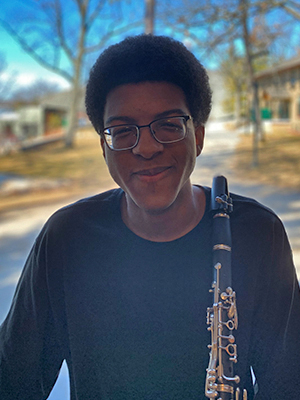 18-year-old clarinetist Najee Greenlee from Flint, Michigan is a recipient of From the Top's Jack Kent Cooke Young Artist Award and a senior at Interlochen Arts Academy. He opens up opens up about remaining steadfast in studying the clarinet while his family faced hardships. He performs Clarinet Quintet in F Sharp Minor, Op. 10, Mvmt 2: Larghetto affetuoso by Samuel Coleridge-Taylor with fellow Interlochen Arts Academy students Aidan Krieger, 17, violin from Southfield, MI; Valerie Xu-Friedman, 17, violin from Williamsville, NY; Emma Boyd , 17, viola from Madison, AL; and Gabriel Hennebury, 17, cello from Ann Arbor, MI.
---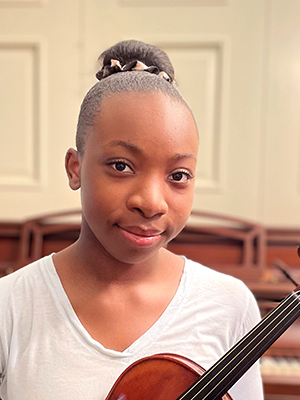 15-year-old composer Ebun Oguntola from Fayetteville, New York, is a curious and enterprising young artist. During her segment, she discusses her pride in her Nigerian background, and describes her parents as the true image of the "American dream." Her sophisticated and dreamy composition, "The Dimensions," is brought to life by violinists Charles Yang and Doori Na, and pianist Peter Dugan.
---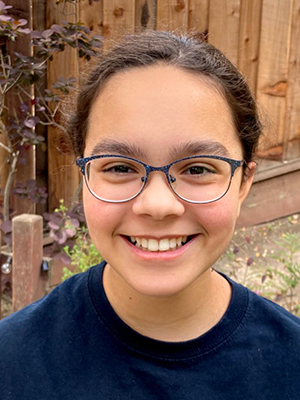 12-year-old cellist Emma Spence from Los Altos, California performs Adoration by Florence Price. The segment steps inside a family dinner, where her mother probes about the meaning of Juneteenth, how Emma relates to the music she performs, and why she connects with Florence Price's work.
---
Host Peter Dugan performs "A Child is Born" by Thad Jones.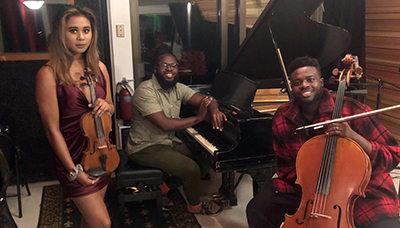 Finally, Kevin Olusola picks up his cello to perform with From the Top alumni Hannah White, violin and Clifton Williams, piano. They give a stirring performance of Sam Cooke's "A Change Is Gonna Come," arranged by Matt Jones to close the program.
Don't miss an episode! Subscribe to the From the Top podcast.