NPR's From the Top with Host Christopher O'Riley Salem, Massachusetts / 292
Sunday, June 29, 2014 at 4:00PM | Morse Auditorium | Presented by Peabody Essex Museum
Watch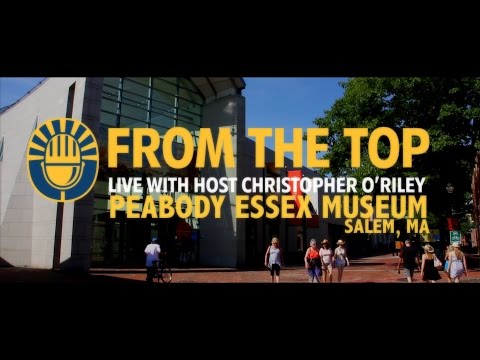 About
Show 292 was recorded at The Peabody Essex Museum in Salem, Massachusetts. We hear an award-winning string quartet from Chicago perform the music of Bartók, and a teenager from Maryland performs an epic piece on the traditional Chinese instrument, the guzheng. Watch a video of the guzheng performance here.
Given the show's art museum venue, each young performer also discusses a connection between the music they're performing and a work of visual art in the museum's collection. You can see those photos by visiting this show's flickr gallery.
This show also featured the works of Peabody Essex Museum Composer-in-Residence Matthew Aucoin. "Corona" may be heard on the broadcast and seen in a video here.
Another movement, Sprich Auch Du, maybe seen in this video:
Performers & Repertoire
The fifth movement, Allegro molto, from String Quartet No. 4 by Béla Bartók

"Chanson triste" by Henri Duparc, with pianist Christopher O'Riley

The Eternal Sorrow of Lin'An by Zhanhao He, with pianist Christopher O'Riley

Hungarian Rhapsody No. 6 in D-flat major, S. 244/6, by Franz Liszt

"Corona" from his Celan Fragments

"Corona" from Celan Fragments by Matthew Aucoin

The fourth movement, Allegro molto, from String Quartet No. 2 in A minor by William Walton
Release Dates
Monday, September 22, 2014
Release date is when this show is released to NPR stations, here on our website, and to our podcast. Shows are released on a weekly basis; please check your local NPR station listing for the actual airtime in your market. If you'd like, you can visit NPR's "Find Stations" page to look for your station.
Support Provided By
From the Top is grateful to the staff of Peabody Essex Museum for helping to make this unique event possible.
The Jack Kent Cooke Foundation