NPR's From the Top with Host Christopher O'Riley: San Antonio, Texas / Show 350
Wednesday, February 14, 2018 at 8:00 PM | Lila Cockrell Theater | Presented by Texas Music Educators Association (TMEA)
Watch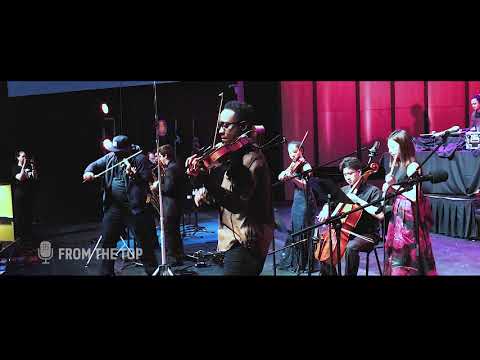 About
From the Texas Music Educators Association Conference in San Antonio, Texas, this week's inspiring recording of From the Top features a fantastic line-up of all-Texas performers alongside special guests Black Violin! We'll meet a young bassoonist who's willing and able to play any instrument his band director needs to be covered, an award-winning saxophone quartet performs an exquisite piece by Guillermo Lago, and all the young performers join guests Black Violin on stage for their fun reimagining of "Simple Gifts" by Joseph Brackett.
Performers & Repertoire
Polonaise No. 1 in D Major, Op. 4 for Violin and Piano by Henryk Wieniawski with Christopher O'Riley, piano

II. Aria from Sonatine for Bassoon and Piano by Alexandre Tansman with Christopher O'Riley, piano

III. Allegro giocoso from Sonata No. 1 for Flute and Piano, by Eric Ewazen with Christopher, O'Riley, piano

'Sarajevo' (Bosnia and Herzegovina) from Ciudades by Guillermo Lago and "Tango Virtuoso" by Thierry Escaich (b.1965)

"Shaker", based on variations of "Simple Gifts" by Joseph Brackett Jr., arranged for Black Violin by Kevin Sylvester and Wilner Baptiste

"Brandenburg" (based on I. Allegro from Brandenburg Concerto No. 3 in G major, BWV 1048 by Johann Sebastian Bach), arranged by Wilner Baptiste and Kevin M. Sylvester.
Release Dates
Monday, September 24, 2018
Release date is when this show is released to NPR stations, here on our website, and to our podcast. Shows are released on a weekly basis; please check your local NPR station listing for the actual airtime in your market. If you'd like, you can visit NPR's "Find Stations" page to look for your station.
Support Provided By
The Jack Kent Cooke Foundation
Joanna Kim's performance on Show 350 is part of From the Top's New Music Series, supported in part by the Amphion Foundation and the Aaron Copland Fund for Music