NPR's From the Top with Host Christopher O'Riley: Boston, Massachusetts / Show 334
Sunday, March 12, 2017 at 2:00 PM | New England Conservatory's Jordan Hall | Presented by From the Top
Watch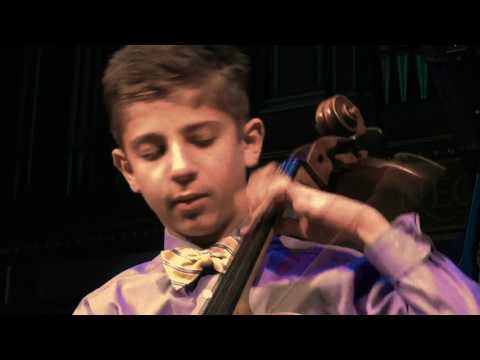 About
Show 334 is a wonderful mix of sounds and stories, featuring an intense and delightful chamber music piece by Arno Babadjanian, along with outstanding performances on bassoon, cello (played by a 12-year-old), piano, and violin. Two members of From the Top's Center for the Development of Arts Leaders are featured on this show, and share their stories of how they use music (and more) to transform their communities.
Performers & Repertoire
III. Allegro Vivace from Piano Trio in F Sharp Minor by Arno Babadjanian

Récit, Sicilienne et Rondo by Eugene Bozza with Christopher O'Riley, piano

II. Allegro from Cello Sonata in D minor, Op 40 by Dmitri Shostakovich with Christopher O'Riley, piano

II. Chez Petrouchka from Trois mouvements de Petrouchka by Igor Stravinsky

I. Mazurka from Five Pieces for Violin and Piano, Op. 81 by Jean Sibelius with Christopher O'Riley, piano

Sonatensatz in C Minor by Johannes Brahms with Christopher O'Riley, piano
Beyond the Concert Hall
Musicians from this show traveled to Bridge Boston Charter School on the Monday following their recording. Pianist Amir Siraj has this to say: "Spending a day at Bridge Boston was truly transformative. The experience of talking to, performing for, and playing music with these bright-eyed, curious, and beaming middle-schoolers was something that I will never forget. These kids are the future of classical music, and I am lucky to have had the opportunity to hopefully ignite a spark in some of them."
Check out photos from the trip to Bridge Boston here.
Release Dates
Release date is when this show is released to NPR stations, here on our website, and to our podcast. Shows are released on a weekly basis; please check your local NPR station listing for the actual airtime in your market. If you'd like, you can visit NPR's "Find Stations" page to look for your station.
Support Provided By
The Jack Kent Cooke Foundation
The Howard and Geraldine Polinger Family Foundation
Arthur Winn and the Winn Family Charitable Foundation