NPR's From the Top: San Marcos, TX / Show 373
Saturday, June 8, 2019 at 7:00 PM | Performing Arts Center Recital Hall at Texas State University | Presented by Texas State International Piano Festival
Watch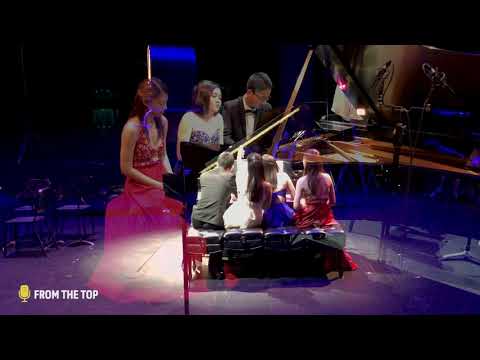 About
This week's special episode of From the Top with guest host and concert pianist Simone Dinnerstein puts the spotlight on the piano in all its splendid configurations. Recorded at the Texas State International Piano Festival, we'll hear some of the country's premiere young pianists perform as soloists and members of small ensembles – including a raucous piece for eight hands at one piano!
Guests
Guest Host: Simone Dinnerstein

American pianist Simone Dinnerstein is known for her "majestic originality of vision" (the Independent) and her "lean, knowing and unpretentious elegance" (the New Yorker).
Performers & Repertoire
Serried with a Tinge of Bop, by Doug Opel (b.1967)

III. Laideronnette, Empress of the Pagodas from "Mother Goose Suite" by Maurice Ravel (1875-1937)

IV. Theme and Variations from the Piano Quintet in A major, D.667 "The Trout" by Franz Schubert (1797-1828)

Liebestraum No. 3 in A Flat Major by Franz Liszt (1811-1886)

Etude No. 6 by Philip Glass (b.1937)

I. Allegro from Bach Double Concerto in C minor, BWV 1060

Galop-Marche for Eight Hands by Albert Lavignac (1846-1916)
Release Dates
Monday, September 16, 2019
Release date is when this show is released to NPR stations, here on our website, and to our podcast. Shows are released on a weekly basis; please check your local NPR station listing for the actual airtime in your market. If you'd like, you can visit NPR's "Find Stations" page to look for your station.
Support Provided By
Angelia Ning's performance is part of From the Top's New Music Series, supported in part by the Amphion Foundation and the Aaron Copland Fund for Music.