NPR's From the Top with Host Christopher O'Riley: College Park, Maryland / 232
Saturday, April 16, 2011 at 8:00 PM | Dekelboum Concert Hall | Presented by Clarice Smith Performing Arts Center
Watch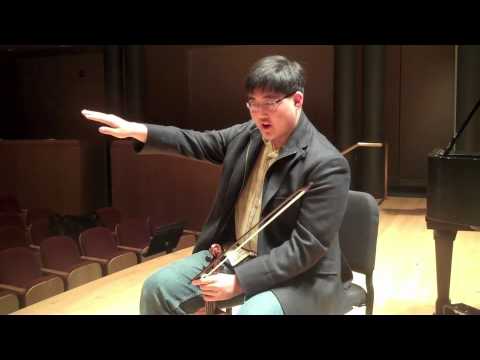 About
We're at Dekelboum Concert Hall at the University of Maryland in College Park this week, where a young bassoonist plays the music of Alexandre Tansman and shares an inspiring story about determination, and a young pianist reminds us what it feels like to practice music when you're only five. You'll also meet a spectacular piano trio from the Juilliard Pre-College Division and hear a 17-year-old play Baroque music on an authentic Baroque violin.
Performers & Repertoire
IV. Fuga: Allegro con spirito from Sonata by Samuel Barber

Sonata No. 4 by Marco Uccellini accompanied by Christopher O'Riley on harpsichord

II. Valseana & III. Preludio e toccatina from "Aquarelle" by Sérgio Assad

I. Allegro con moto from Sonatine by Alexandre Tansman
Related Stories
From the Top alumni are doing amazing things! This summer, it seemed like every time we fired up the old internet-machine, we saw news of another From The …

17-year-old From the Top alum Conrad Tao is one to watch!  In addition to being profiled in the current issue of New York Magazine, Conrad's first …

This week 152 young artists gathered in Miami for the 2012 YoungArts Week, a core program of the National Foundation for Advancement in the Arts. Nine of …

Big news – From the Top alums George Li (Show 144) and Conrad Tao (Show 107 and Show 232) have just been named recipients of the 2012 Gilmore Young …

From the Top's broadcast for Show 232 was taped in the Dekelboum Concert Hall (within the Clarice Smith Performing Arts Center) at the University of …

We had a wonderful taping this past weekend in College Park, Maryland with a talented and diverse group of teenage musicians. First up was 16-year-old …
Release Dates
Release date is when this show is released to NPR stations, here on our website, and to our podcast. Shows are released on a weekly basis; please check your local NPR station listing for the actual airtime in your market. If you'd like, you can visit NPR's "Find Stations" page to look for your station.
Support Provided By
The Jack Kent Cooke Foundation