NPR's From the Top with Host Christopher O'Riley: Chicago, Illinois / 238
Saturday, July 2, 2011 at 6:30 PM | Arie Crown Theater, McCormick Place | Presented by National Educators Association
Watch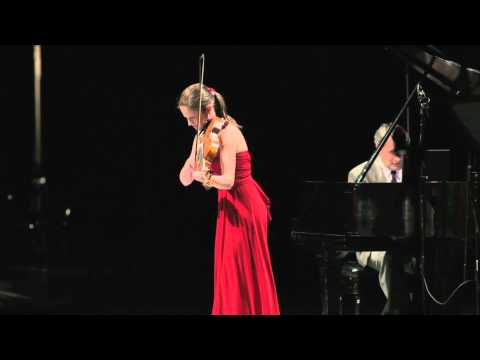 About
This week, From the Top comes to you from the National Educators Association Annual Meeting at the Arie Crown Theater in Chicago, Illinois where you'll hear a 17-year-old violist play the music of William Walton, an 18-year-old baritone sing from Songs of Travel by Ralph Vaughn Williams, and scenes from Stravinksy's "The Soldier's Tale" performed by teenagers from Chicago and one very cool teacher.
Performers & Repertoire
I. Andante comodo from Concerto for Viola and Orchestra by William Walton

"Whither Must I Wander?" from Songs of Travel by Ralph Vaughan Williams

Impromptu by Alexander Arutunian

I. Soldier's March, III. Royal March and V. The Devil's Dance from "The Soldier's Tale" by Igor Stravinsky. Narration by Brayer Teague

II. Presto from Sonata No. 2 by Avner Dorman
Related Stories
From the Top wishes to extend warmest congratulations to all of the young performers, including eleven From the Top alumni, who were chosen to be part of …

Calling all Illinois fans! Violist Stephanie Block (Show #238) will be hosting a benefit concert next Wednesday in support of the Histiocytosis Association …

This week 152 young artists gathered in Miami for the 2012 YoungArts Week, a core program of the National Foundation for Advancement in the Arts. Nine of …

From the Top's Show 238 was taped in the Aire Crown Theater at the McCormick Place in Chicago, Illinois on  Saturday, July 2, 2011. We asked our performers …

This past weekend, From the Top traveled to Chicago's Arie Crown Theater to kick off our 12th season, taping a very special radio show as part of the …

We taped a wonderful show this past weekend at the Arie Crown Theater in Chicago, Illinois. It was a special show for all of us at From the Top because it …
Release Dates
Release date is when this show is released to NPR stations, here on our website, and to our podcast. Shows are released on a weekly basis; please check your local NPR station listing for the actual airtime in your market. If you'd like, you can visit NPR's "Find Stations" page to look for your station.
Support Provided By
The Jack Kent Cooke Foundation