Shostakovich, an 11-year-old Guitarist, & New Music | On the Air This Week
The charismatic violinist Charles Yang, member of the genre bending trio "Time for Three", returns to From the Top this week to join Host Peter Dugan in collaborating with our young performers. He performs the music of Shostakovich with a teenager from Philadelphia and leaps into a quartet to perform the composition of an imaginative 18-year-old composer-bassist.
This show is packed with music by American composers and it's got a great high energy vibe.
---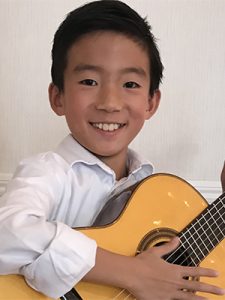 We kick off the program with 11-year-old guitarist Preston Hong from Los Altos, CA, who has a distinctly sunny personality. That disposition happens to perfectly align with the music he's performing, Andrew York's, "Sunburst." Preston describes to Peter his "workout" routine and other hobbies.
---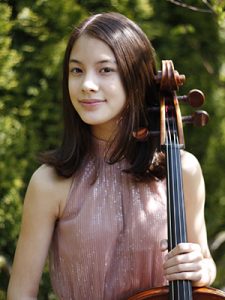 Next we meet 15-year-old cellist Carson Ling-Efird from Seattle, WA who is a passionate composer and pianist as well as cellist. She performs a moving rendition of Capriccio for violoncello and piano by Lukas Foss, with pianist Li-Tan Hsu. We also hear a bit of her own composition, as performed by a string quartet from the Seattle Symphony.

---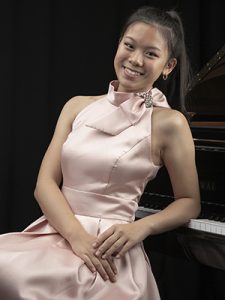 17-year-old pianist Ursula Hardianto from San Diego, CA bonds with Peter over their shared musical family traditions. She also describes her efforts to create a benefit concert to raise funds for the National Alliance on Mental Illness, inspired by her experiences with a loved one. On the program, Ursula performs Concert Etude Op. 40 No. 6 Pastoral by Nikolai Kapustin.
---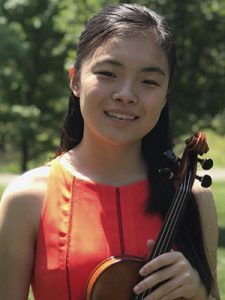 Violinist Kayleigh Kim, 16, from Oak Hill, VA speaks with Peter Dugan and Charles Yang about the power that music holds in her life.
"With music I'm able to be vulnerable and communicate what I'm really feeling and whatever emotion I'm trying to convey in the music – it's just a really powerful outlet for me."
She performs 5 Pieces for Two Violins and Piano by Dmitri Shostakovich with guest host, violinist, Charles Yang and Peter Dugan.
---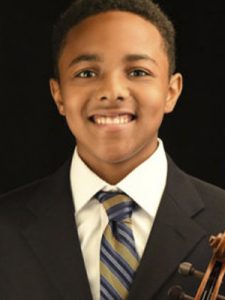 17-year-old violist Peirce Ellis from Broomall, PA has performed at the White House for Michelle Obama, and participated in a 2-week leadership program in Japan, among other achievements. He's also a recipient of From the Top's Jack Kent Cooke Young Artist Award. He speaks with Charles and Peter about his significant height and how that impacts his music.
Peirce performs Suite for Viola and Piano (1919), Mvmt 4 by Ernest Bloch with host Peter Dugan.
---
For our finale, Peirce's brother Braden Ellis, an 18-year-old double-bassist and composer, returns to From the Top with an imaginative composition "Tuna" performed by himself, Peirce, viola, Charles Yang, violin, and Peter Dugan, piano.