Alumni Profile: Organist/Pianist Daniel Colaner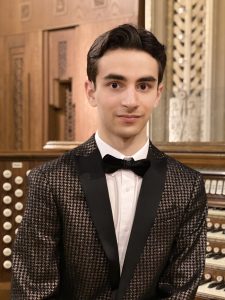 Daniel Colaner (Organ/Piano) lives in Akron, Ohio and is a recipient of From the Top's Jack Kent Cooke Young Artist Award. He is a student of David Higgs at the Eastman School of Music. Daniel is the Organ Scholar at St. Paul's Episcopal Church in Cleveland Heights, Ohio and is also a member of the Meraki Trio.
When not making music, Daniel enjoys programming, playing tennis, and the company of his calico cat, Imogene.
We recently caught up with Daniel to get an update on his life today!
From the Top: Hi Daniel! You performed on From the Top's Show 377 in 2019 and were a recipient of From the Top's Jack Kent Cooke Young Artist Award. What have you been up to since then?
Daniel: Since appearing on From the Top, I have had the opportunity to perform on PBS with the American Pops Orchestra in One Voice: The Songs We Share – The Sacred, as well as perform Joseph Jongen's Symphonie Concertante with the CIM Orchestra. I was named a 2023 National Young Arts Finalist in Organ/Classical Music and selected for The Diapason magazine's "20 Under 30" Class of 2021, a nominated group of young adults at the forefront of the organ field.
Most recently, I was awarded 1st Prize and the Audience Prize at the 2023 Arthur Poister Organ Competition and the 2023 L. Cameron Johnson Memorial Organ Competition. Additional recent honors include 1st Prize and the Bach Prize at the ECU Young Artists Organ Competition and 1st Prize at the Columbia AGO Competition for Young Organists.
As a pianist, I made my Severance Hall debut with the Cleveland Pops Orchestra, performing Nikolai Kapustin's Piano Concerto No. 2. I performed Saint-Saëns' Piano Concerto No. 2 with the Euclid Symphony Orchestra, as well as with the Lakeland Civic Orchestra and the Suburban Symphony Orchestra. As a collaborative pianist and chamber musician, my Meraki Trio was awarded 1st Place at the inaugural Glass City Chamber Music Competition in 2022 and was selected to compete in the 2023 Fischoff National Chamber Music Competition.
This fall, I will begin serving as the Organ Scholar at St. Paul's Episcopal Church in Cleveland Heights. I continue to study organ privately with David Higgs of the Eastman School of Music and plan to pursue a degree in Organ Performance in the fall of 2024.
From the Top: You performed "Jupiter" from The Planets by Gustav Holst arr. by Peter Sykes, a favorite of many, when you were on the show. Has your personal interpretation of the piece changed as you've gotten older?
Daniel: Being able to revisit repertoire is a real gift and a reminder of how one continually grows and evolves as an artist and musician. I am physically larger and subsequently stronger than I was when I was 14. More importantly, my musical frame of reference has evolved exponentially, not only by studying other organ repertoire, but also by studying music theory, and music history, and participating in chamber music as a pianist. I have also had the opportunity to perform as a solo pianist and organist with several orchestras.
Having the opportunity to hear the Cleveland Orchestra perform on a regular basis has given me a much broader orchestral palette to draw upon. Since "Jupiter" is an orchestral transcription originally composed by Holst for orchestra, my frame of reference today is simply more sophisticated. With expanded knowledge and experience comes the potential for a more mature and nuanced interpretation.
Listen to Daniel's 2019 performance on From the Top at age 14!
From the Top: As an organist that has performed in countless venues and on many incredible instruments (including the home organ you built yourself), can you explain what creates a memorable performance environment/experience for you?
Daniel: One of the things I enjoy most about being an organist is the wide variety of instruments I encounter. Whether large or small, old or new, I have never met an organ I didn't like! While that statement may not be entirely true, as some organs have been better cared for than others, I always look forward to "pulling out all the stops," not at the same time, of course, but taking time to learn about the instrument and which registrations or combination of sounds will serve the music best in the acoustic. This is perhaps the most challenging aspect of being an organist.
A musician's primary responsibility is always to bring the composer's music to life. Playing an authentic instrument like those in France or Germany is incredibly rewarding for both the organist and the audience, but there are few examples of such organs in America. American organs vary greatly by manufacturer and voicing. Therefore, every time I sit down at an organ I have not played before, it is like meeting someone for the first time. The fun is in getting to know the instrument personally.
Certain repertoire sounds best when played on the type of organ it was written for, however, only a handful of churches have authentic instruments. When I can bring out the best an organ has to offer, everyone has a rewarding experience.
From the Top: People say music is the universal language – can you tell us about a time you made an unexpected connection because of music? An unlikely friend or strange happenstance?
Daniel: When I was twelve, I had the opportunity to perform at Carnegie Hall. I was also invited to play the organ at St. Patrick's Cathedral on the same day. News of my trip to New York City was picked up by the national media and before I knew it, I was invited to appear on multiple day-time news programs including Good Morning America and the 700 Club. The next day, I found myself performing for George Stephanopoulos on the set of Good Morning America before millions of television viewers across the country.
In my interview, George asked about my battle with cancer as an infant. That one question allowed me to speak about the ways classical music has helped me overcome some of the late effects of the chemotherapy I received. Few people realize how healing music can be. That day, I was able to be an example of classical music's many benefits to Mr. Stephanopoulos and to the world.
When the show went to break, Mr. Stephanopoulos offered to pose for a photo with me and my parents. I had seen him on TV covering public affairs before, but I was surprised to see him on the set of Good Morning America that day. In fact, as we were leaving, my mom said, "That guy looked just like George Stephanopoulos!" and I replied with a laugh, "Mom, that WAS George Stephanopoulos!"
From the Top: What was the last thing that inspired you? In what ways were you inspired?
Daniel: I just returned from the French Organ Music Seminar in Paris, a trip made possible by scholarships from the Anthony Quinn Foundation and the Canton Ohio American Guild of Organists. This seminar afforded me the opportunity to play fifteen of the finest and most historically significant organs in Paris. Much of the French organ repertoire was composed for these organs by such renowned composers as Cesar Franck, Maurice Duruflé, and Charles Widor to name a few. The churches were home to the world's great organists, past and present, including Daniel Roth, the titular organist of St. Sulpice, with whom I worked in a masterclass at Notre Dame de Champs. I also had the opportunity to visit Versailles and play the magnificent French Baroque organ there played by Mozart.
As a young organist trained in the United States, I have played primarily American, electro-pneumatic organs and Baroque reproduction mechanical action organs. Having the opportunity to play and hear French organ repertoire, on the very instruments the works had been composed for, completely altered my understanding and perception of the French organ repertoire. The grandeur, beauty, and brilliance of this repertoire cannot fully be appreciated until it can be heard on these great instruments in these grand spaces. Going forward, I have no doubt that my performance of this repertoire will be forever inspired by what I experienced in Paris.