NPR's From the Top with Host Christopher O'Riley: Orono, Maine / Show 314
Sunday, October 25, 2015 at 3:00 PM | Collins Center for the Arts | Presented by University of Maine, Orono
Watch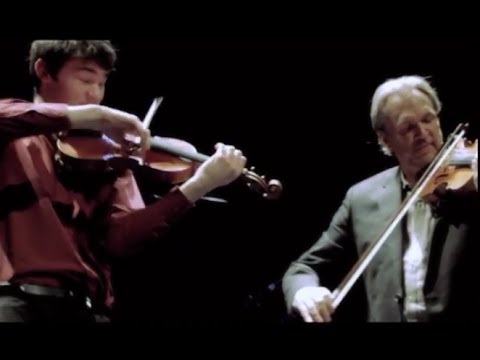 About
From Orono, Maine, this week's program features violinist, educator, and composer Mark O'Connor as a special guest artist, and he brings his signature American fiddle sound to some exciting collaborations with the young performers on the show. We'll also hear the inspirational story of how studying music helped the young cellist on the program overcome major physical coordination challenges.
Performers & Repertoire
Sonata for Violin and Piano No. 8, Op. 30, No. 3, by Ludwig van Beethoven

"Libertango" by Mark O'Connor

II. Allegro appassionato from Sonata for Viola and Piano in E-flat major, Op. 120, No. 2 by Jonahhes Brahms

I. Allegretto moderato from Sonata for Bassoon and Piano in G major, Op. 168 by Camille Saint Saëns

I. Prologue: Lent, sostenuto e molto risoluto from Sonata for Cello and Piano by Claude Debussy

I. Fast and cheerful from Mark O'Connor String Quartet No. 1 by Mark O'Connor

"Congress Hoedown" by Mark O'Connor
Release Dates
Monday, December 14, 2015

Monday, February 27, 2017
Release date is when this show is released to NPR stations, here on our website, and to our podcast. Shows are released on a weekly basis; please check your local NPR station listing for the actual airtime in your market. If you'd like, you can visit NPR's "Find Stations" page to look for your station.
Support Provided By
The Jack Kent Cooke Foundation