NPR's From the Top: Los Angeles, CA / Show 367
Sunday, February 24, 2019 | The Hollywood Scoring Studio | Presented by From the Top
Watch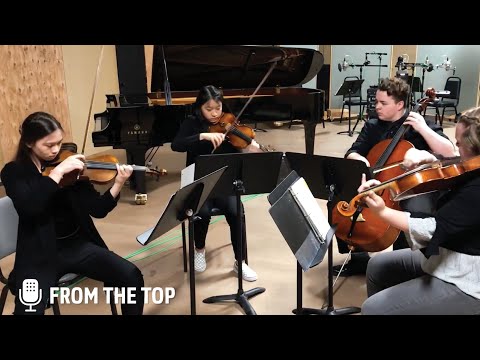 About
Recorded in the Hollywood Scoring Studio in Los Angeles, we meet a fantastic 15-year-old pianist who loves Disney so much she can name every ride just by listening to their soundtrack! We also meet a prize-winning string quartet who performs Mendelssohn's second string quartet and a teenage saxophone player from Texas plays a virtuosic work by a 20th-century composer.
Guests
Guest Host: Pianist Peter Dugan

Prizing versatility as the key to the future of classical music, pianist Peter Dugan is equally at home in classical, jazz, and pop idioms.
Performers & Repertoire
L'Isle joyeuse by Claude Debussy (1862-1918).

Sonata in D minor, Op.27, No.3 "Ballade" by Eugène Ysaÿe (1858-1931).

I. Adagio - Allegro Vivace from String Quartet No. 2 in A minor, Op. 13 by Felix Mendelssohn (1809-1847).

II. Andante and III. Presto from Divertimento for Alto Saxophone and Piano by Roger Boutry (b.1932), with Peter Dugan, piano.

"Capriccio" by Lukas Foss (1922-2009), with Peter Dugan, piano.

Sonata No.3 in A minor, Op.28, by Sergei Prokofiev (1891-1953)
Release Dates
Monday, November 11, 2019
Release date is when this show is released to NPR stations, here on our website, and to our podcast. Shows are released on a weekly basis; please check your local NPR station listing for the actual airtime in your market. If you'd like, you can visit NPR's "Find Stations" page to look for your station.