NPR's From the Top with Host Christopher O'Riley Norfolk, Virginia / 290
Tuesday, May 13, 2014 at 8:00 PM | Attucks Theatre | Presented by Virginia Arts Festival
Watch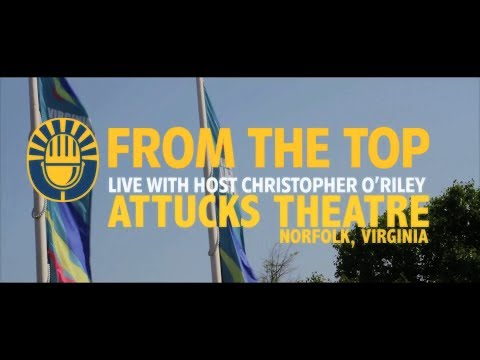 About
From Norfolk, Virginia, at the Virginia Arts Festival, this episode features a steel drum band from the local community, and a violin-cello duo made up of two wonderfully talented brothers.
Their unusually generous and easygoing humor with each other is not only charming, but it also makes for a seamless musical collaboration (get a close-up view of their music-making here). We'll also hear a spirited performance from Mozart's Sonata No. 12 by a pianist who's just 11 years old, and we'll meet a 15-year-old violinist who happens to have some success as an actress: she recently landed a guest role in the NBC series "Believe."
Performers & Repertoire
Passacaglia in G minor on a Theme by Handel by Johan Halvorsen

Passacaglia in G minor on a Theme by Handel by Johan Halvorsen

Kyle Hu, 11, piano

The third movement, Allegro assai, from Piano Sonata No. 12 in F major, K. 332, by Wolfgang Amadeus Mozart

the third movement, Allegro moderato, from Sonata for Violin and Piano No. 1 in D minor, Op. 75, by Camille Saint-Saëns

Kommt ein Schlanker Bursch gegangen" from Der Freischütz by Carl Maria von Weber

Intermezzo,Op. 9, No. 1, by Reinhold Glière

Overture to The Barber of Seville by Gioacchino Rossini for steel drum ensemble
Related Stories
Last month, From the Top returned to the Virginia Arts Festival for a performance in the historic Attucks Theatre in Norfolk. The Rhythm Project All Stars, …

By Jingxuan Zhang On Show 132 in Boston, Neara Russell wowed the From the Top audience with her amazing versatility. During the taping, she accompanied at …

Nick Romeo continues his coverage on From the Top alumni in the Van Cliburn Competition. He managed to track down  Alex McDonald at a party following the …

Each year gifted string musicians under the age of 20 compete in the Stulberg International String Competition for a chance to win performance …

This is a great example of Arts Leadership! We love how teens took the initiative and then won support from a major symphony. The West High Symphony Club …

From the Top Alum and past Roving Reporter and violinist Caeli Smith just sent us another great update. These days Caeli is studying at Juilliard and is a …

If you are a From the Top alum with news to share, send us a message at enewsletter@fromthetop.org! Clifton Williams (Show #195), a Jack Kent Cooke Young …
Release Dates
Release date is when this show is released to NPR stations, here on our website, and to our podcast. Shows are released on a weekly basis; please check your local NPR station listing for the actual airtime in your market. If you'd like, you can visit NPR's "Find Stations" page to look for your station.
Support Provided By
The Howard and Geraldine Polinger Family Foundation
The Jack Kent Cooke Foundation