NPR's From the Top with Host Christopher O'Riley: Mesa, Arizona / Show 269
Tuesday, February 19, 2013 | Piper Theatre | Presented by Mesa Arts Center
Watch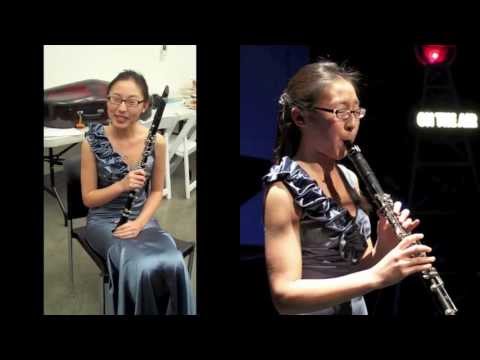 About
This week, From the Top is at the Mesa Arts Center in Mesa, Arizona where you'll hear a 15-year-old violinist play a piece by Zolt‡n Kod‡ly and a 14-year-old pianist play Prokofiev. Also, you'll enjoy a setting of a poem by Walt Whitman composed by a 17-year-old and performed by the Phoenix Children's Chorus. Audio for this show will be available on the right starting April 8.
Performers & Repertoire
IV. Molto Allegro fromÊthe Sonata in E-flat for Clarinet and Piano, Op.167 by CamilleÊSaint-Sa'ns

III. Allegro Molto Vivace from the Sonata for Solo Cello, Op.8 by Zolt‡n Kod‡ly

Sonata No.3 in D minor for Violin and Piano, Op.108 by Johannes Brahms

III. Allegro con brio, ma non leggiere from Sonata No.4 in C minor, Op.29 by Sergei Prokofiev

"O Captain! My Captain!" by composer Trey Pernell, 17

Phoenix Children's Chorus

"Angels Watchin' Over Me," trad. spiritual, with additional words and music by Greg Gilpin, accompanied by Lori Woods, piano
Beyond the Concert Hall
Giving Back to the Arizona Community (http://greenroom.fromthetop.org/2013/03/29/giving-back-to-the-arizona-community/)
Related Stories
Growing up in Denver, Colorado, Trey Pernell was a student with many talents. Despite some significant challenges in his home life, Trey decided that he …

From the Top's broadcast for Show 269 was taped at the McCoy Center for the Arts in Mesa, AZ on Tuesday February 19, 2013. We asked our performers to tell …

We think music is powerful stuff and we love sharing that message with the different communities we visit on tour. While taping in Mesa, Arizona in …
Release Dates
Monday, September 23, 2013
Release date is when this show is released to NPR stations, here on our website, and to our podcast. Shows are released on a weekly basis; please check your local NPR station listing for the actual airtime in your market. If you'd like, you can visit NPR's "Find Stations" page to look for your station.