NPR's From the Top with Host Christopher O'Riley: Carmel, Indiana / 233
Tuesday, April 26, 2011 at 7:00 PM | Presented by The Palladium at the Center for the Performing Arts
Watch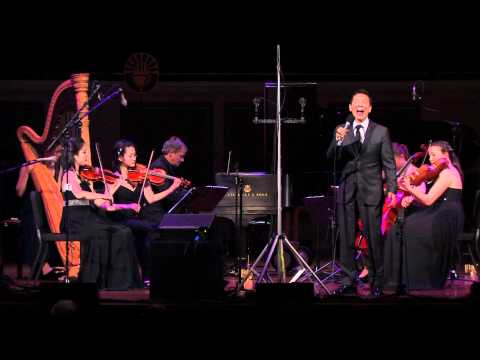 About
This week, from the Palladium at the Center for the Performing Arts in Carmel, Indiana, you'll hear a 16-year-old perform music by the "Czar of Cellists," a young harpist share what life is like on her Indiana farm, and four teenagers describe the very different ways their parents got them through times when they wanted to quit music. Also, special guest Michael Feinstein, renowned interpreter of the Great American Songbook, sings Gershwin accompanied by our kids.
Guest Artist Michael Feinstein performs "Love Walked In" by George Gershwin, arranged by Lee Blaske, accompanied by harpist Katherine Kapelsohn, Quartet Toujours, and pianist Christopher O'Riley.
Click here to see a picture of the practice game created by Eva Kennedy's mom. To learn about other ways parents motivate their kids to practice, check out our Parents' Perspective blog series.
Performers & Repertoire
At the Fountain, Op. 20, No. 2 by Carl Davidoff

"Asturias" from Suite Española, Op.47, by Isaac Albéniz

III. Allegro non troppo (4:00) from String Quartet No.3 in F major, Op.73 by Dmitri Shostakovich

I. Allegro Moderato from Concerto in F major by Johann Hummel
Related Stories
  Towards the end of March, we taped a show at The Palladium – a beautiful, acoustically-ideal concert hall that's part of the Center for the …

From the Top's broadcast for Show 233 was taped in The Palladium at The Center for the Performing Arts on Tuesday, April 26, 2011. We asked our performers …

Hi everyone! We're back from Carmel, Indiana, where we taped a show with a very special guest – singer and interpreter of the Great American Songbook …
Release Dates
Monday, November 21, 2011
Release date is when this show is released to NPR stations, here on our website, and to our podcast. Shows are released on a weekly basis; please check your local NPR station listing for the actual airtime in your market. If you'd like, you can visit NPR's "Find Stations" page to look for your station.
Support Provided By
The Jack Kent Cooke Foundation