NPR's From the Top with Host Christopher O'Riley: Yountville, California / 225
Sunday, January 23, 2011 at 3:00 PM | Lincoln Theater Napa Valley | Presented by Lincoln Theater Napa Valley
Watch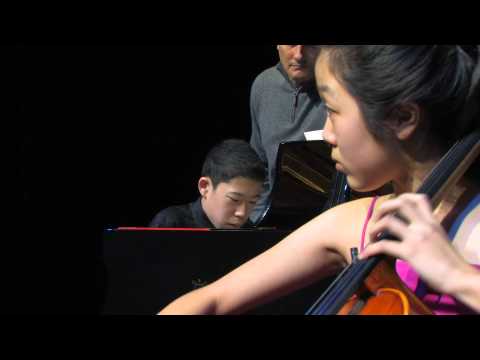 About
This week's show comes to you from Yountville, California in the heart of the Napa Valley, where you'll meet a teenage clarinetist who'll play one of Mozart's most exquisite pieces and then talk about a visionary music education program he created. Also, a 12-year-old local pianist gives you the inside scoop on Napa culture, and a stellar soprano who was on our program a decade ago comes back to share what's happened in her life and music since then.
Get on the Map! Read about inspiring arts leaders like Perry Choi and tell us about the people in your community who are making a difference through music.
Performers & Repertoire
I. Allegro con brio from Piano Trio No.4 in B-flat major, Op.11 by Ludwig van Beethoven

No. 2, 4 and 6 from Six Dances in Bulgarian Rhythm by Béla Bartók

II. Adagio from Concerto in A major, K. 622 by Wolfgang Amadeus Mozart Soprano

"It Ceased to Hurt Me", "I Shall Not Murmur", and "I Like to See It Lap the Miles" from The White Election, Part Three: Almost Peace by Gordon Getty

III. Presto in moto perpetuo from Concerto Op. 14 by Samuel Barber
Related Stories
[Music] is such an underrated resource, yet people use music every day. We have it in our cars, on our phones, in the grocery store – it is everywhere we …

This month, 14-year-old pianist Marie Kelly debuted at Carnegie Hall's Weill Recital Hall! Marie performed after winning first place in the American …

This guest post is from Brian Kaufman and Michael Reichman, co-recipients of From the Top's 2010 Margaret Stewart Lindsay Arts Leadership Award, as they …

From the Top's Show 225 was taped in the Lincoln Theater Napa Valley in Yountville, CA on Sunday January 23, 2011. We asked our performers to tell us about …

The day after we taped Show #225 in Yountville, California, the From the Top Education Team visited the beautiful Blue Oak School with performer and …

Last Sunday we taped a show in one of the most beautiful areas of the country – Yountville, California in the heart of the Napa Valley. We took in the …

This past weekend From the Top visited sunny Napa to tape a radio show at the Lincoln Theater in Yountville, CA! Our performers joined us the morning after …

Just got some great news from Pianist Michael Brown, who appeared on Show 109 in Lancaster, PA in November of 2004. He just won first prize in the …

We are pleased to announce our 2010-2011 national tour dates for taping our popular NPR radio program hosted by acclaimed concert pianist Christopher …

Pianist Patricio Molina, who was featured on From the Top's TV show and is a recipient of our Jack Kent Cooke Young Artist Award, will perform in a …

Last June, From the Top Tour Producer David Balsom was preparing to visit Cedar Rapids, Iowa to plan out a yearlong residency program with Orchestra Iowa …
Release Dates
Monday, December 19, 2011
Release date is when this show is released to NPR stations, here on our website, and to our podcast. Shows are released on a weekly basis; please check your local NPR station listing for the actual airtime in your market. If you'd like, you can visit NPR's "Find Stations" page to look for your station.
Support Provided By
The Jack Kent Cooke Foundation