NPR's From the Top with Host Christopher O'Riley: Rockport, Massachusetts / 236
Saturday, June 4, 2011 at 5:00 PM | Shalin Liu Performance Center | Presented by Rockport Music Festival
Watch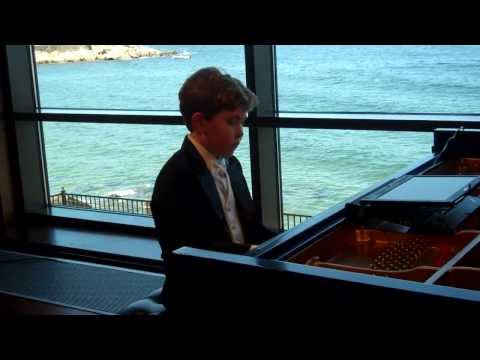 About
We're at the Shalin Liu Performance Center in Rockport, Massachusetts where an outstanding teenage quartet from Boston performs the music of Edvarg Grieg, a teen from Illinois plays a tarantella by Karol Szymanowski, and a gifted 8-year-old pianist plays Debussy.
Performers & Repertoire
Zapateado by Pablo de Sarasate

V. The Little Shepherd and I. Doctor Gradus ad Parnassum from Children's Corner by Claude Debussy

I. Un poco andante – Allegro molto ed agitato String Quartet in G minor, Op.27 by Edvard Grieg

Fantaisie brillante on Bizet's Carmen by François Borne

Tarantella from Nocturne and Tarantella, Op. 28 by Karol Szymanowski
Related Stories
Mai Nguyen is a member of our 2015-2016 Center for the Development of Arts Leaders. She recently performed at Goddard House Assisted Living in Brookline, …

Our alumni are making waves all over the world! Here's our latest round of alumni updates, keep them coming! You can submit your update to: …

Congratulations to the From the Top alumni honored as some of the top young artists in the country by the YoungArts program. Each year, YoungArts selects …

Four-time radio show alum Sarina Zhang will perform with the New York Philharmonic next month! Sarina appeared as a pianist on Show 112 in San Diego, CA …

From the Top's broadcast for Show 236 was taped in the Shalin Liu Performance Center on Saturday June 4, 2011. We asked our performers to tell us about the …

We just taped a show in Rockport at what may have been the most beautiful concert hall I've ever performed in – the Shalin Liu Performance Center. The back …

Pianist and Jack Kent Cooke Young Artist Clifton Williams has had an extraordinary year. After performing on From the Top in March 2009, he was profiled in …

Pianos: they're not just for inside anymore. Luke Jerram, an English artist, put 30 pianos in public places around London for the summer as part of …

We are always thrilled to hear from our past performers, and here is another round of news from the many From the Top alumni living all over the country. …

As usual, From the Top's amazing alumni are out and about and accomplishing great things. Here are just a few examples of recent news we have heard: …
Release Date
Monday, September 19, 2011
Release date is when this show is released to NPR stations, here on our website, and to our podcast. Shows are released on a weekly basis; please check your local NPR station listing for the actual airtime in your market. If you'd like, you can visit NPR's "Find Stations" page to look for your station.