Tuesday, June 8, 2010 | Symphony Hall | Presented by Boston Pops
Watch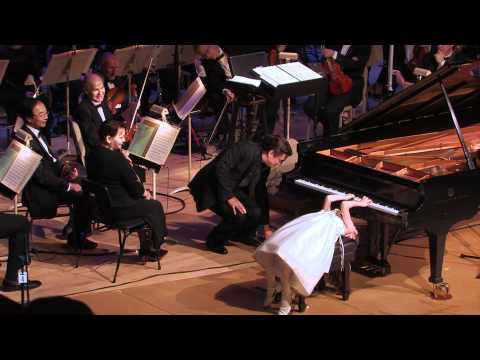 About
This week, from Symphony Hall in Boston, outstanding young musicians solo with the Boston Pops, conducted by Keith Lockhart. You'll hear a teenage cellist perform the Finale of the Symphony No. 1 by Shostakovich and a nine-year-old pianist from California play Mozart – and then teach Maestro Lockhart how to play upside down and backwards. Plus, seasoned orchestra members challenge two talented teens in a competitive round of "Old Fogies vs. Young Whippersnappers"!
Performers and Repertoire:
Pianist and Jack Kent Cooke Young Artist Umi Garrett, 9, from Alisa Viejo, CA, performs III. Allegro Assai from Piano Concerto No.23 in A Major, K. 488 by Wolfgang Amadeus Mozart
Bayan accordion player Michael Bridge, 17, from Calgary, Alberta, Canada, performs Csardas by Vittorio Monti
Cellist Gabriel Cabezas, 17, from Philadelphia, PA, performs IV. Allegro Con Moto from Cello Concerto No. 1, Op. 107 by Dmitri Shostakovich
Violinist Michelle Lee, 17, from, Dublin, CA, performs Tambourin Chinois by Fritz Kreisler, arranged by David Brohn
The Boston Pops perform IV. Finale from Symphony No. 1 in C Minor by composer Jeremiah Klarman, 17, from Chestnut Hill, MA
Release Dates
Monday, February 28, 2011

Monday, September 6, 2010
Release date is when this show is released to NPR stations, here on our website, and to our podcast. Shows are released on a weekly basis; please check your local NPR station listing for the actual airtime in your market. If you'd like, you can visit NPR's "Find Stations" page to look for your station.