NPR's From the Top with Host Christopher O'Riley: Bogotá, Colombia / 255
Wednesday, May 30, 2012 | Teatro Mayor Julio Mario Santo Domingo | Presented by Batuta
Watch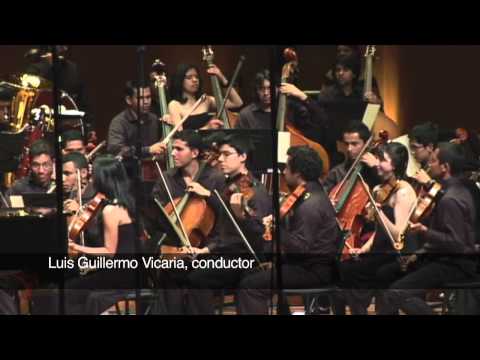 About
What do young musicians who come from the edge of the Amazon rain forest, the sophisticated big city of Bogotá, and the villages and towns in-between have in common? An incredible music education system and one of the top youth orchestras in the Americas! This week, From the Top comes to you from the Teatro Mayor Julio Mario Santo Domingo in Bogotá, Colombia, where you'll hear amazing performances by the Colombian Youth Philharmonic and one of the nation's flagship Orff ensembles.
This episode is dedicated to the memory of Maestro Matthew Hazelwood.
Performers & Repertoire
Filarmónica Joven de Colombia

"Batalla Imperial" from "Tiento del Primer Tono y Batalla Imperial" by Cristóbal Halffter

Filarmónica Joven de Colombia and Christopher O'Riley, piano

variations 19–24 from the Rhapsody on a Theme of Paganini, Op.43, by Sergei Rachmaninoff

Filarmónica Joven de Colombia

Death and Transfiguration, Op.24 by Richard Strauss

Allegro Ensemble

"El Abrazo" by Gustavo Adolfo Renjifo, arr. Martha Sofía Rivera

Allegro Ensemble

"Te Olvidé" by Antonio María Peñaloza, arr. Martha Sofía Rivera

Filarmónica Joven de Colombia

"Colombia Tierra Querida"
Release Dates
Monday, September 17, 2012
Release date is when this show is released to NPR stations, here on our website, and to our podcast. Shows are released on a weekly basis; please check your local NPR station listing for the actual airtime in your market. If you'd like, you can visit NPR's "Find Stations" page to look for your station.