New Podcast Series Launches with Voices from the Heartland
This week marks the launch of From the Top's new short form podcast series featuring brief but beautiful moments pulled from our archive.
Our first episode highlights the Norman North High School Chorale's powerful performance of Eric Whitacre's "Water Night", recorded in their home state at Oklahoma City University in 2011. Choir members also pay tribute to their dedicated director, Tony Gonzalez.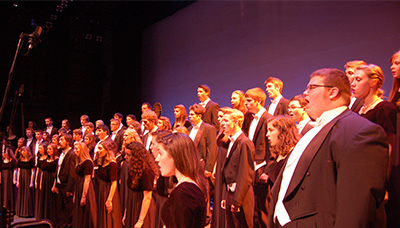 Listen where you get your podcasts. Please drop us a line, review, and/or rating to let us know what you think of this new series.
---
"Water Night"
Night with the eyes of a horse that trembles in the night,
night with eyes of water in the field asleep
is in your eyes, a horse that trembles,
is in your eyes of secret water.
Eyes of shadow-water,
eyes of well-water,
eyes of dream-water.
Silence and solitude,
two little animals moon-led,
drink in your eyes,
drink in those waters.
If you open your eyes,
night opens, doors of musk,
the secret kingdom of the water opens
flowing from the center of night.
And if you close your eyes,
a river, a silent and beautiful current,
fills you from within,
flows forward, darkens you,
night brings its wetness to beaches
in your soul.
Octavio Paz, 1914-1998
(Adapted by Eric Whitacre, Translation by Muriel Rukeyser)