Special Alumni Opportunity!
Do you ever record yourself performing at home?  Do you want to learn how to make your recordings sound better?
Are you creating content and/or producing music for social media or want to know how to get started?
Interested in learning what tools top creators are using to edit their content?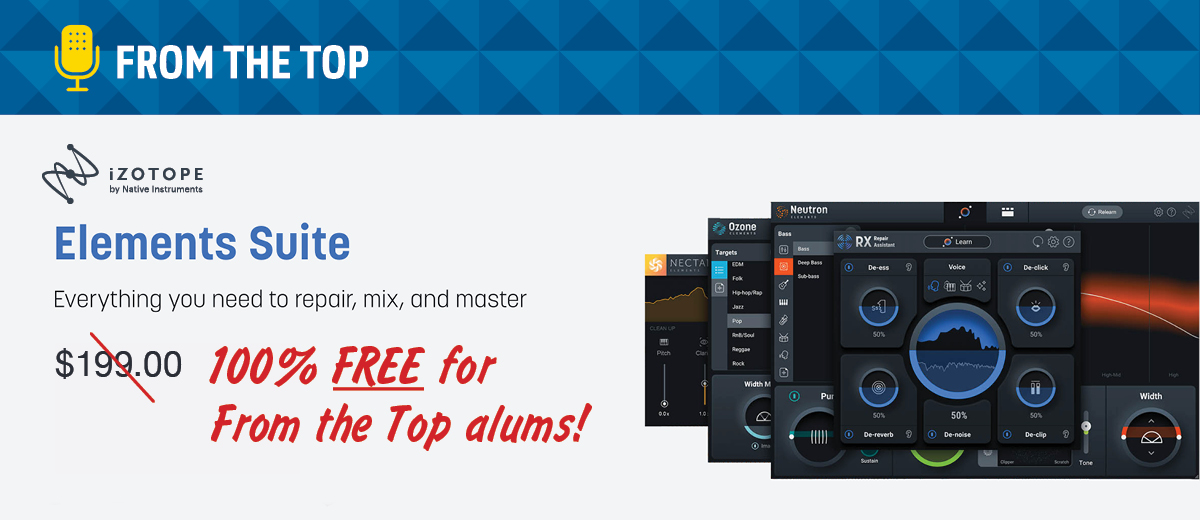 As a From the Top Alum, You're in Luck! …
iZotope, the award-winning audio software company, is collaborating with From the Top to empower classically trained musicians to reimagine the future of sound. We are very grateful to iZotope for their generous support of From the Top.
*SPECIAL OFFER FOR ALUMNI*
From the Top will distribute licenses for iZotopes Element Suite to the first 120 From the Top Alumni who register via this link.
AND…From the Top will provide virtual introductory course to iZotope's Element Suite led by John Escobar, FTT's Associate Director of Audio Technology and Engineering and Professor at Berklee College of Music. John will take you through the basics of production, guiding you through the process of mixing and mastering audio to help you produce your best performance. 
What Is iZotope? And what is the Element Suite?

iZotope is obsessed with great sound. Since 2001, their intelligent audio technology has helped musicians, music producers, and audio post engineers focus on their craft rather than the tech behind it. Learn more about iZotope.

iZotope Elements Suite is a carefully selected collection of products designed to give you everything you need to mix, master, and repair. The products include mixing tools (to maximize the best tone and definition in your sound), de-noising tools (to take out the hum of your neighbor's lawn mower), and vocal polishing tools (to make your speaking or singing clear and distinctive).

How could iZoptope help me?

For instrumentalists:

Add tone, dynamics, and width to your recording! Edit recordings of your Instrument, ensemble, or voice.
Tailor your instrument recording with AI powered tools to fit any genre (Rock, Jazz, R&B, etc.) 
Edit out or add reverb, unwanted sounds, and smooth out editing clips

Join the Virtual Class

Virtual Class: Improve Your Records Using iZotope with John Escobar
September 7, 2023
7:00– 8:30 PM ET

Practice basics, ask questions, and get feedback on your recordings with FTT Associate Director of Audio Technology and Engineering, John Escobar!

Join fellow FTT Alumni in learning:

What it means to "Mix and Master"
How to remove unwanted sounds and balance audio
Ways to add warmth and clarity to your recordings
Explore different textures and vocal effects

Sign me up!

Sign up to receive a license for the iZotope Element Suite. The Element Suite is a set of four downloadable plug ins including the Ozone 10 Elements, Nuetron 4 Elements, RX Elements, and Nectar Elements.  Interested in composing or adding different instrumentals to your recording? iZotope is compatible with Logic, Ableton, Pro Tools, and a few more.

This package valued at $100  is FREE for the first 120 From the Top alumni who fill out the form linked below!

Resource Library

Want to learn more about using iZotope?  Check out some helpful videos below:

iZotope Tutorial Recommendation: Are you Listening| Season 1

Thank you to iZotope for their generous sponsorship of From the Top.