From the Top Returns to the Boston Airwaves!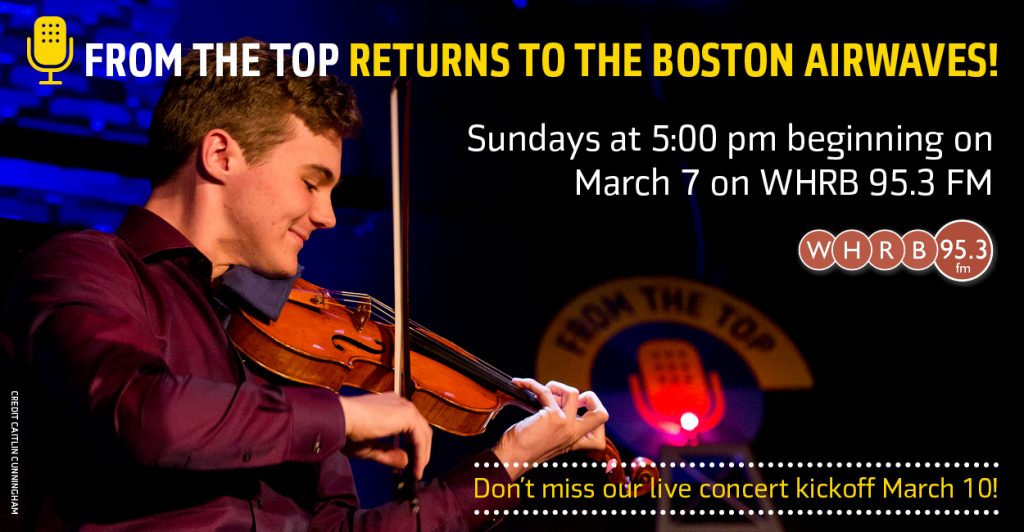 THE POPULAR SHOWCASE FOR YOUNG CLASSICAL MUSICIANS
PREMIERES ON WHRB 95.3 FM – Sunday, March 7 at 5:00 PM
—
[February 22, 2021] – WHRB-Harvard Radio announces plans to air From the Top, the acclaimed hour-long showcase of America's talented young classical musicians distributed by NPR. Hosted by pianist Peter Dugan, From the Top will air Sundays at 5:00 PM, beginning March 7, 2021.
To celebrate the launch of From the Top on WHRB, Peter Dugan will host a free Virtual Concert on March 10, 2021 at 8:00 PM ET. The concert will premiere on  Facebook | YouTube  and will feature Harvard University students/alumni – Ria Modak '22, guitar; Haeun & Hayoung Moon '23, violin & cello, and Lev Mamuya '18, cello – all have previously appeared on the radio program.
From WHRB Program Director Kevin Wang:
"Growing up, I often heard From the Top in the car at the exact hour WHRB will broadcast it this spring—5pm on Sundays. From the Top shows that the state of classical music is strong and its future bright. WHRB is delighted to bring the energizing performances of promising young musicians back to the Boston airwaves."
From the Top Executive Director, Gretchen Nielsen, says: 
"We are thrilled to partner with WHRB in bringing From the Top back to our hometown Boston market. It's an honor to be included among WHRB's diverse programming. Based at Harvard, WHRB is unique in being at the heart of a university with many From the Top alumni among its student body, past and present. That connection is special and makes WHRB such a wonderful fit for our show."
From the Top, distributed by NPR, features the astounding performances and captivating personal stories of extraordinary classically-trained young musicians from across the country. Broadcast on nearly 200 stations nationwide, From the Top is the most popular one-hour weekly syndicated classical program on public radio.
Hosted by pianist Peter Dugan, along with a team of regularly appearing co-hosts, From the Top delights listeners of all ages and backgrounds with its good humor and inspiring young people.  Peter Dugan collaborates with the young musicians at the piano and on some episodes, his co-hosts — including violinist Tessa Lark, clarinetist Alex Laing, pianist Orli Shaham, and violinist Charles Yang — widen the musical perspective of the program both in performance and conversation.
From the Top was founded in Boston in 2000. The program was previously carried by 'GBH from 2000 to 2016.
DETAILS
From the Top will air on WHRB 95.3 FM, Sundays at 5:00 PM beginning March 7, 2021.
Free Virtual Concert, featuring Harvard University/From the Top musicians | Wednesday, March 10 at 8:00 PM ET | Watch on Facebook | YouTube
##
ABOUT FROM THE TOP
Based in Boston, From the Top is a national non-profit organization that supports, develops, and shares young people's artistic voices and stories. Its national platform and leadership programs amplify the hope, passion, and discipline of today's extraordinary young musicians.
From the Top's programs include: a weekly NPR show and podcast, a virtual concert series, a scholarship for musicians with financial need; arts leadership and community engagement experiences for young musicians; and Daily Joy, a video series that provides hope and joy during the pandemic.
From the Top's programs are made possible in part by an award from the National Endowment of the Arts, a grant from the Jack Kent Cooke Foundation, support from the Massachusetts Cultural Council, partnerships with radio stations nationwide, and contributions from generous individuals.
Learn more at fromthetop.org.