Teachers: Send Us Your Students!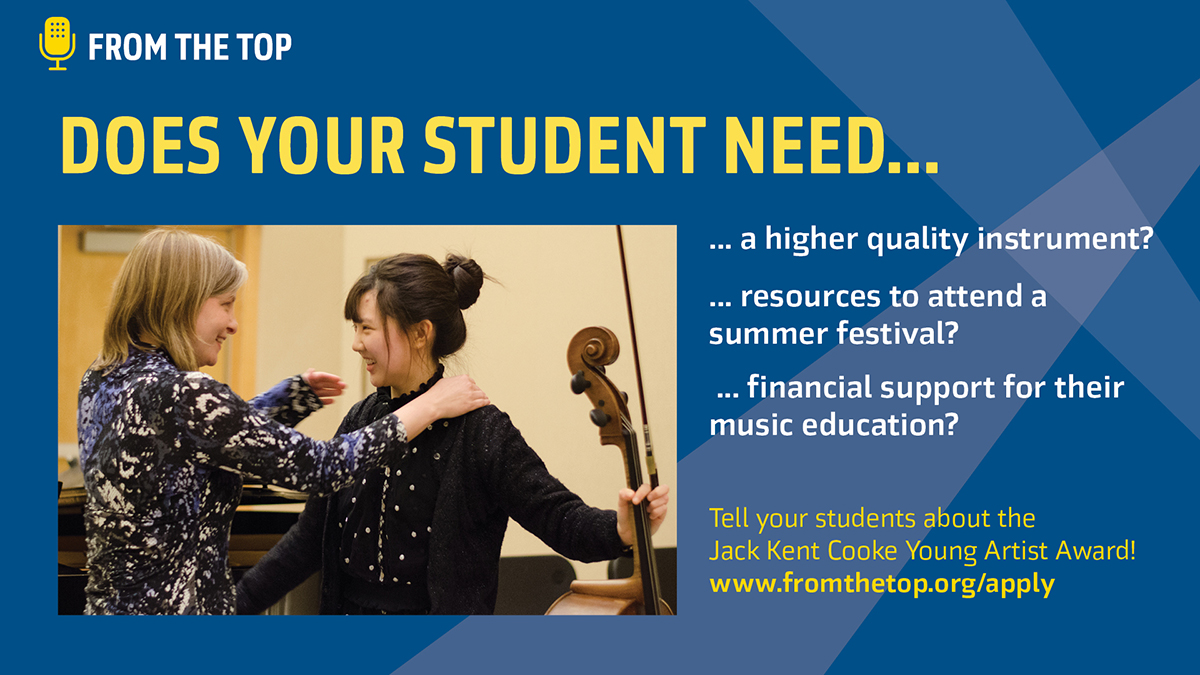 Do you have a student in desperate need of a higher-quality instrument for whom that possibility is currently out of reach?
Do you have a student who has never had the chance to attend a summer music festival due to financial restrictions?
Do you have a student with incredible talent who wants to apply to music colleges, but can't afford the application fees or the cost of travel to the auditions?
Do you have a student for whom $10,000 in support of their music education could turn their dream of pursuing a career in music into a reality?
If so, we strongly encourage you and your student to consider From the Top's Jack Kent Cooke Young Artist Award!
From the Top and the Jack Kent Cooke Foundation collaborate each year to provide twenty young musicians with a need-based scholarship of up to $10,000, to help offset the costs of studying classical music at a high level.
The Jack Kent Cooke Young Artist Award is given in conjunction with a performance on the radio show, thus giving your students a national platform to share their stories as well as their music.
The majority of our alumni for whom the scholarship has made the greatest difference in their lives, found out about the scholarship through their private teacher. We therefore invite you to please speak to your students about the Jack Kent Cooke Young Artist Award – especially to those for whom you feel it could have the greatest impact.
Please don't be a stranger! Feel free to reach out to us directly at scholarship@fromthetop.org. Tell us about your students, and in particular those you feel could use an extra hand of support.
---
Who should Apply?
Classical instrumentalists, vocalists, and composers (ages 8–18) who have not yet entered college
Applicants must demonstrate:
Exceptional Musical Achievement
Unmet Financial Need
Strength of Character
Academic Achievement
Exceptional musical achievement
Applicants must have strong musical ability and a willingness to perform on our NPR show.
Unmet financial need
The Jack Kent Cooke Young Artist Award is a need-based scholarship. Applicants must provide evidence of a family income insufficient to meet the costs of his/her musical pursuits (new instruments, music lessons, summer festival tuition, and travel, etc.). 90% of our past recipients come from families with an annual household Adjusted Gross Income of under $60,000. While we definitely take extenuating circumstances into consideration, such as cost of living, medical expenses, dependents, etc., we do not encourage applicants with an annual household Adjusted Gross Income of over $100,000 to apply. COVID UPDATE: If your student's family's financial or employment situation has changed significantly due to the effects of the pandemic, they can include a detailed statement within the "Special Financial Circumstances" section at the end of the scholarship application.
Strength of character
Applicants must demonstrate drive, initiative, maturity, leadership, and a commitment to giving back to one's community.
Academic achievement
Applicants must possess strong scholastic achievement indicated by good grades, strong academic recommendations, academic awards, and strong test scores.
Would you like to find out more?
Feel free to contact us via phone: 617-437-0707 or email: scholarship@fromthetop.org. We would love to hear from you!
For more information on the scholarship and how to apply, please visit our FAQs. 
---
Do you have a wonderful student(s) who might not have financial need, but has a musical gift and voice worth sharing and celebrating?
We want to hear your students. We want to hear their stories and their musical voices! We want to celebrate them!
Many alumni remark that their experience with From the Top empowered them to move forward with their desire to pursue a career in music. Performing on From the Top was an affirmation that helped them believe in themselves and in what they had to share, at a time when they needed it most.
Encourage your students to apply for From the Top.
Please feel free to contact us with questions about applying for From the Top and your student(s)' eligibility by sending an email to admissions@fromthetop.org.