From the Top Live Auditions
"My time on From the Top was amazing! I learned so much about how to communicate my feelings about music and share my story." Xavion Patterson, 17, bassoon
SUMMER 2020 VIRTUAL AUDITIONS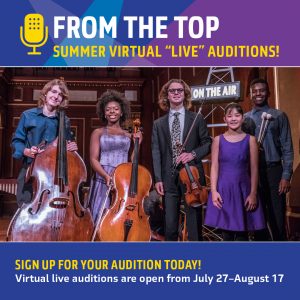 From the Top had to make a major pivot in March, as our final shows of the season were cancelled due to COVID-19.  With the great talent of our technical team and the open-mindedness and brilliance of young musicians across the country, like you, we were able to develop ways to make sure the show goes on!
Pursuing more work in the digital arena, as well as using social distancing in local studios as the situation becomes safer, From the Top will produce a full season of NPR radio shows in 2020-21.
To that end….WE WANT TO HEAR FROM YOU!!!  
While we typically organize in-person live auditions at summer music festivals, this year we are moving online!
THE PROCESS
There are two necessary steps to sign up for a virtual live audition:
You can access this application through the confirmation page of your online sign up, or you can access our online application here: https://apply.fromthetop.org
Please make sure to complete your online application before your audition date!
Your confirmation email from signupgenius.com will contain a Zoom link which will give you direct access to the audition "room".
HOW WILL VIRTUAL LIVE AUDITIONS WORK?
Virtual "Live" Auditions will take place from July 27 – August 29 via the Zoom platform. We realize that Zoom does not always provide the most detailed and accurate window into your playing, and we do plan to follow up by requesting additional recordings when needed. However, virtual "live" auditions allow us to get to know you, which is something we greatly value.  So, come as you are!  We can't wait to meet you!
WHAT TO PREPARE
Just as in our standard live auditions, be prepared to play excerpts from one or two contrasting pieces of repertoire (examples: short show pieces, one movement of a sonata) and to have a mini interview with From the Top staff. Piano accompaniment is welcome, but not required!
Due to the unpredictable nature of the sound quality via Zoom, From the Top staff may follow up to request additional recordings.
We look forward to seeing you soon!
---
FALL 2020 AUDITION DATES
DATES TBD– Stay tuned!
---
QUESTIONS?

Email auditions@fromthetop.org or call Lev Mamuya at (617) 437-0707 for more information.